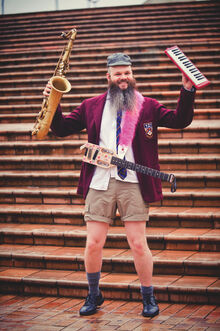 Adam Page
is a multi-instrumentalist from Adelaide. He has collaborated with many local groups including
The Shaolin Afronauts
and
1.1 Immermann
, but is best known for his multi-instrumental looping show that he has presented around the world since 2006.
Page records live instruments into loop pedals and spontaneously composes intricate grooves in many different styles. He is primarily a Saxophone player, but the instruments Page loops are as diverse as Bass, Keyboard, Percussion, Vocals, Tuvan Throat Singing, Beat Boxing, Guitar, Ukulele, Flute, Clarinet, Kalimba and Native American harmony flutes.
Biography
Edit
Adam Page joined the orchestra on a cruise ship in 2002, travelling all over the globe playing with some of the worlds best cabaret performers for three and a half years. Destinations he travelled to and performed in included Tahiti, Caribbean, Mexico, United States, Canada, Alaska, United Kingdom, Scotland, Ireland, Wales, Germany, France, Holland, Belgium, Italy, Spain, Portugal, Greece, Greek Islands and Turkey.
From 2004 to 2009 he was the Saxophone, Clarinet, Flute, Jazz impro and Jazz band teacher at Fremont High, St. Paul's, St Mary's, St. Aloysius and Scotch College in Adelaide. In 2006, 2007 and 2008 he was a composer and performer for ArtsSA and Australia Council Funded dance project "Falling for Frank".
His collaborations stretch far and wide, working with artists and groups such as The New Zealand Symphony Orchestra, STRIKE, STROMA, John Psathas, James Brown, Katie Noonan, James Muller, Riki Gooch, Adam Page & The Death Stars, Band of Thousands, The Ross McHenry Future Ensemble, Mark De Clive-Lowe, Myele Manzanza, The Shaolin Afronauts (ARIA award nominees), The Mike Stewart Big Band, Louis Baker, The Transatlantics, The Adelaide Sax Pack, Darren Percival, Mal Webb, Ben Todd, Lisa Tomlins, late Indian sitarist Dr. Chandrakant Sardeshmukh, James and John Morrison, The Wellington International Ukulele Orchestra and The Wheatsheaf Ukulele Collective, while also recording with artists such as Electric Wire Hustle, Christoph El' Truento, Oisima, Nico Suave and Dave Whitehead (recording various sounds for The Hobbit).
Festivals Adam has performed at include the Glastonbury Festival in the UK, Slap! Festival in Zaragoza - Spain, WOMADelaide, WOMAD NZ, The Big Day Out, Edinburgh Fringe, Adelaide Fringe, Melbourne Fringe, NZ Fringe, SPLORE, Hamilton Garden Arts Festival, Erupt Taupo Festival, Queenstown Jazz Festival, Camp a Low Hum, the Tora! Tora! Tora! festival, The Wanaka Festival of Lights, The Capital E! Festival and the National Jazz Festival in Tauranga.
"I saw Adam perform in Edinburgh 2008, having heard the word on da street that he was freaking ace. And he truly was. It is a rare treat to see a musician with such a masterful grasp of his craft performing with such effortless charisma, humour, and inventiveness. I was blown away. There's no one doing it quite like him". - Tim Minchin.
Page wrote and performed his first symphony for the New Zealand Symphony Orchestra entitled 'MOMENTVM'. He also composed and performed the music for a Chapmann Tripp nominated play called 'Into the Uncanny Valley'. In 2013 he was commissioned to compose for the Wellington Brass Band, The Woolston Brass Band and NZSO trombone player Matthew Allison.
In 2015 Page began tutoring at the
Elder Conservatorium
, took on the role of coordinator for
JazzSA
in place of
Mike Stewart
and opened
Wizard Tone Records
with some long term fellow local musicians. In 2016 his collaborations continued as he conducted and composed for the
Adelaide Symphony Orchestra
as well as maintaining monthly solo performances at the Crown and Anchor Hotel with second set guest performers. He was also a touring musician for Musica Viva in Schools, travelling to regional South Australian schools as a performer and educator. He co-composed a solo saxophone and looping pedal suite with Slava Grigoryan, wrrote for and performed with the Australian String Quartet and developed an improvisational 'sign language' with the Wizard Tone Art Orchestra.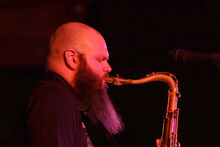 Page's awards include; 1998 finalist in James Morrison jazz scholarship, 1999 most outstanding saxophone player at the Elder Conservatorium, 1999 graduated from the Adelaide University with a bachelor of jazz performance with a score of 97%, 2000 graduated from University with first class honours majoring in jazz and Indian classical music, 2000 most outstanding post-graduate jazz student at Adelaide uni, Best Music by and Emerging Artist at the 2007 Adelaide Fringe Festival, best music and best solo show at the 2009 New Zealand Fringe festival, Best Music at the 2011 Adelaide Fringe Festival and in 2012 was nominated for a Freedman Fellowship in Australia. He also won the weekly award for Best Music at the 2016 Adelaide Fringe and the Melbourne Fringe TOUR READY award.
External Links
Edit
Community content is available under
CC-BY-SA
unless otherwise noted.