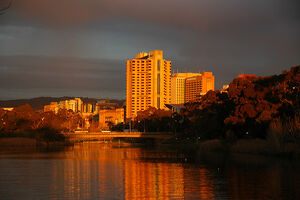 Music of Adelaide as represented on Wikipedia
Adelaide is the capital city of South Australia. Its musical heritage includes the well-known Adelaide Festival of Arts, Barossa Music Festival and the world music festival WOMADelaide, which is held annually in Botanic Park. Major music venues include the Royal Adelaide Showgrounds, Adelaide Entertainment Centre and the Thebarton Theatre. Other music institutions in Adelaide include the Elder Conservatorium at the University of Adelaide.
Adelaide has also produced a number of popular musicians, such as the Testeagles, Sia Furler, Eric Bogle, I Killed The Prom Queen, The Mark of Cain and The Superjesus, while American Ben Folds also resides in the city for part of every year. Adelaide's popular contributions also include Australian hip hop crew Hilltop Hoods, classic rock act Cold Chisel and Australian Idol winner Guy Sebastian.
About the Adelaide Music Wiki
Due to strict regulations, Adelaide based musicians face much difficulty establishing a presence on Wikipedia, primarily because of "notability" guidelines. These require anyone seeking to include themselves on Wikipedia to have met certain criteria concerning achievements such as chart positions, national awards, or being affiliated with major or significant independent labels, for which most Australian bands outside of mainstream pop or rock (and even many who aren't) will find impossible in their lifetime. The Adelaide Music Wiki will allow anyone currently or previously involved in making music in South Australia to contribute to the finely woven tapestry of our local scene, which, although small and self-contained, is as important and notable as any other in the world. In 2015 Adelaide gained UNESCO city of music recognition, representing the depth of this cultural significance.
Please contribute to this wiki and help preserve our music history by creating a music database specific to South Australia. The Adelaide Music Wiki is a community site that anyone can contribute to. It is currently home to more than 600 pages worth of information and images about our local music scene from the early 20th century until the current day. Discover, share and add your knowledge!
Getting Started
If you are new to the Adelaide Music Wiki and would like some help understanding how it works click here.
Rules for submission
For everybody's sake, especially the moderators, please remember:
To follow standard Wiki formatting, such as proper use of headings and links, see existing articles on Wikipedia for layout examples.
Use plenty of internal links to connect bands, members, venues, and albums.
Add plenty of relevant categories to each page to connect bands, members, venues, and albums.
Note that your page's content may be edited to conform to this site.
Remember that this site is for the preservation of band's histories, not for advertising.
Do not fill your page with more external links, videos, or images than necessary.
External links are only permitted under an 'External Links' heading, not in the main body of a page.
Opinions and non-factual information (such as "Adelaide's best ___ band") will be removed.
Vandals will have their IP address banned with no warning.
Please encourage others to contribute.
External Links
South Australian music playlists elsewhere on the internet.
Latest activity
Community content is available under
CC-BY-SA
unless otherwise noted.