Back To The KidCrusher is a single by KidCrusher, released October 21, 2015.
It is a remix of his first single "A Dirty Fuckin Murder" which was released in October 2005 with a music video for the album Light to Dark and Life to Death. 2015 marked the ten year anniversary of KidCrusher and ironically linked with Back To The Future day "Oct.21.2015".
A new music video was produced and released on the day, featuring a DMC DeLorean time machine in which he travels back to the year 2005 to remix the single better than before.
Track listing
Edit
Back To The KidCrusher
Documentary & DVD
Edit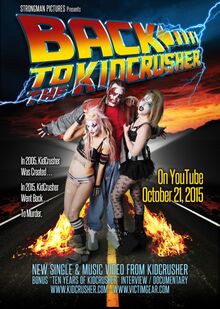 A "Ten Years of KidCrusher" was released with the music video, in which KC details the Chronicles of KidCrusher and small details on how he got started and where he stands today.
The original single was released on Light to Dark and Life to Death, and was inspired by the movie "Brainscan" and the episode "The Soldier and Death" from The Storyteller, mixed with a tale of necrophilia.
The only link between Back to the Future and the single is the date it was released, KC has also noted that it's his all time favorite movie and always wanted to use a Delorean for a music video.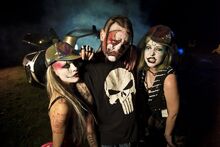 Community content is available under
CC-BY-SA
unless otherwise noted.