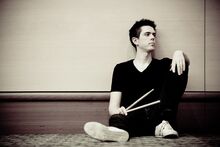 Ben Todd is a drummer, percussionist, composer and band leader from Adelaide in South Australia. 
Biography
[
]
At age 13, Ben was accepted under scholarship to attend the acclaimed Marryatville High School as a specialist music student. During his time at Marryatville, Ben was part of the award winning "Big Band One" which led him to tour both nationally and internationally, including performances in London, New York and Los Angeles.
In 2007, Ben was selected as a "James Morrison Jazz Scholarship" finalist then in 2008, Ben was a featured artist at the "Ultimate Drummers Weekend" in Melbourne, Australia, which had him performing alongside some of the worlds best drummers and percussionists. He would later be asked back again in 2015. In 2010 Ben release his début solo studio album, "20TEN" which featured all original compositions. Since the release of this album, Ben has also released a play-along version for drummers as part of his "playTIME Series".
Ben has toured the world with the internationally acclaimed "Cirque du Soleil" as a featured drummer and percussionist with 2 of their shows, "CORTEO" and "KOOZA". During this time, Ben toured to Japan, Russia, The United States, Spain, France, Belgium and England and performed over 1500 shows. Prior to joining Cirque, Ben performed with a wide range of artists back in Australia including Kate Cebrano, Paulini, Ben Lee, Doug Parkinson, Rhonda Burchmore, James Morrison, David Campbell and Glen Shorrok (The Twilights), as well as playing in the pit orchestras for many shows including Miss Saigon, Grease, Metro Street, Guys and Dolls and The Candyman.
In 2015 Ben took a one year break from touring with Cirque du Soleil and worked on the production for his next album, as well as playing in many bands and shows all over Adelaide including The Todd Blokland Band and 2015 Best Emerging Artist at the Fringe, Vane of Barbs. During this time he also released the album EP as a duo with multi-instrumentalist Adam Page. In 2016 he released the five track Ben Todd Quintet EP which featured James Muller, Adam Page, Paul White (The Airbenders), Damien Steele-Scott and himself.
Discography
[
]
20TEN - (2010)
Ben Todd Quintet EP - (2016)