Black Circle Magic is a studio album by KidCrusher.
It is indexed as the 3rd Chapter in the Chronicles of KidCrusher. However, several versions were released over the years including a 2005 demo, 2007 internet release and a 2009 extended studio remaster which was partially re-recorded. A sequel was teased to be the 10th Chapter, however it was delayed.
Alternative versions were titled "Black Circle Majik"
This album is almost completely produced by KidCrusher, featuring only a couple tracks by Beatnik.
Track List
Edit
2007 Version
The Black Circle
Get Up N Fuck Em Up!
Hardcore Horrorcore (Feat. Waiztid)
Make Me Ur Victim
Naturan Demanto (Feat. Waiztid/Trips/Chico)
Vampire Freaks
The Sick Room (Feat. Trips)
Digah (Phantom Of The Underground)
Here To Slay (Feat. Dead Creeps Orchestra)
-Featured on the 2009 Remaster
I'm Not Alone (Bonus Track)
Demonology (Bonus Track)
Bleeding Outcast (Bonus Track)
Terrified & Terrible (Bonus Track)
Anxiety (Bonus Track)
Snuff (Hidden Track)
2006 Version
The Black Circle
Get Up N Fuck Em Up
Hardcore Horrorcore (feat. Stash)
Naturan Demanto
The Burning Pain (feat. Dead Creeps)
It's About Tyme
Digah
Influenced by the movie "Black Circle Boys" - Black Circle Magic was an experimental album which was originally released as 7 tracks in 2006, then extended in 2007 with bonus tracks featuring Dyad Souls member Waiztid and Dead Creeps Orchestra. Then added 5 new tracks to the 2009 version. As the majority of the album was recorded without studio equipment, and some are left with the demo versions for the remaster.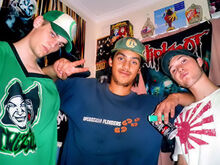 KC quoted "On tour and on the Internet, I received so much love for this album and it confused me, because of the quality of the album, it hurts for me to listen to it, How could they possibly like it. However I had so much fun with the concept, I was keen to go back and remaster it and add some more tracks to it" During the making of the album KC noted that it gave him goosebumps to dive into some of the topics he was researching and writing about "After being inspired by The Necronomicon, Paranormal Activity, The Gate, Hellraiser, Black Circle Boys and Evil Dead, I started to think yeah, maybe saying the wrong thing here and pissing something off, At one occasion during the recording of a track, I swear, something was in the booth during a take and just knocked over my microphone, I didn't even press stop on the recording, i just flat out threw my headphones away and just left the studio, came back about an hour later, I even kept the take of that recording in the song, Just fixed up where i dropped out" 
The 2007 version was the first recordings done after the fall of The Crypt recording studio, before KidCrusher was able to build his own studio, recording with stage mics and low quality soundcards.
Future Sequel
Edit
On Metal Murder 3D, a sequel was teased for Black Circle Magic. KC has openly spoken about his obsession with the project, feeling like it was never complete, hence the several remasters. On an episode of The Drain he said over 10 beats were already produced for a sequel and sound amazing. However a fan approached him and influenced him to move away from sequels such as Metal Murder and make something fresh. It is unclear if the sequel will ever happen at this point.
Community content is available under
CC-BY-SA
unless otherwise noted.