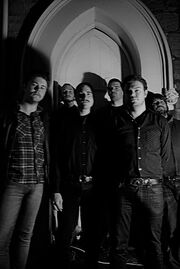 BRONZE CHARIOT was a six piece band from Adelaide considered as being "Cowboy Doom" by many. Founded in January of 2008 and concluding in February of 2014. BRONZE CHARIOT consisted of members of The Burning Sea, TIERSMAN, Thunderclaw, Sparkspitter, MULE, Eyes Like Black Stars, Swords, This City Dynamite!!!, Donkey Kong, Damned Men, Animal Traps, Monuments, Cry Murder, Sun, The New Mutiny and Egypt.
Members
[
]
Biography

[

]
Phase 1
[
]
Bronze Chariot came together in the early months of 2008 settling on the line up of Garrett R. Cooper, Scott Williams, Benjamin Cooper and Michael Elijah (Gallery). The list of former bands was long and included; This City Dynamite!!!, Artax Mission, Donkey Kong, Sun, The New Mutiny, Eyes Like Black Stars, Egypt and more. Early sessions could be described as monstrous jam gatherings inspired by the decades of stoner rock and doom noise Bronze Chariot were delving into at the time. From the night of their first show at Urtex in July 2009 to the end of the year they played many shows not only as a four piece but also as an instrumental three piece when vocalist Ben was out of town. Song structures and sets were improvisational and no track ever sounded the same twice.
In January 2009 Bronze Chariot recorded four tracks clocking in over 32 mins at Capital Sound studios with Mike Deslandes (Coerce). During this period it became increasingly evident that a second guitarist was needed to strengthen their sound as they moved into more post-metal tangents and explorations. Matthew Barlow (Thunderclaw, Sparkspitter) became the fifth member and played his first show with Bronze Chariot in March 2009. The same night marked the release a limited run split with Thunderclaw and Heirs (MELB) containing the track Bronze Chariot in CDR format.
"SAQQARA" the first release of Bronze Chariot was released at the Enigma Bar on the 11th of April. The favourably reviewed release revealed the diverse sounds that were being experimented with at the time and in reflection, a band in transition.
Phase 1 Members
[
]
Garrett R. Cooper - Bass
Scott Williams - Drums
Benjamin Cooper - Vocals
Michael Elijah - Guitars
Phase 2
[
]
In July 2009 original guitarist Michael Elijah decided to leave for other adventures and played his last show with Bronze Chariot on 22nd August at the Enigma Bar. The remaining members not only decided that the band had to continue but also Garrett should move from bass duties and take up guitars. To complete the line-up Mark Draper of The Burning Sea, Swords, This City Dynamite!!! Monuments and Eyes Like Black Stars infamy joined the ranks in September 2009.
With a solidified line up, Bronze Chariot dusted themselves off and began writing songs once again. The passing in time had shepherded a new collection of influences and fuelled a new bite. This was unleashed on Friday the 16th of October as apart of the Coopers Alive showcase held at the Ed Castle. In the remaining months of 2009 Bronze Chariot were back on the road and writing material for our album in 2010. On January 22nd of 2010, Bronze Chariot released single Young Blood, the B-side to this single, Dreams of a Wandering Man was a taste of the direction being taken in preparation for the album to come.
Phase 2 Members
[
]
Garrett R. Cooper - Guitars
Scott Williams - Drums
Benjamin Cooper -Vocals
Matthew Barlow - Guitars
Mark Draper - Bass
Phase 3
[
]
In early 2010, Bronze Chariot set out to write an album that represented the band they wanted to be and the albums they wanted to hear. Bronze Chariot wrote songs that were inspired by dreams of starting again, the times when Ben worked for long periods in the outback, friendships and families, dead end relationships, drinking, playing in bands, throwing caution to the wind, old town family dynasties and getting by in the lucky country. Old friend and Thunderclaw guitarist Nathan Abbott was brought on board to contribute further guitar and keys to the line-up prior to recording. To capture the live and fluid sound the album needed, the songs were tracked live as a band in only one day,with the vocals and guest instruments tracked in the following days. Recording was undertaken at Capital Sound Studios in Adelaide, engineered by Justin Hermes (Diplomat, Damned Men) and MIke Deslandes (Coerce, High Tension). For Bronze Chariot, NIGREDO had essentially been 158 years in the making. The album not only reflected Bronze Chariot's past but also guided their future.
Following the release and tour of Nigredo, Bronze Chariot entered into a period of extended hiatus. During this time new bands were formed amongst the members. Bronze Chariot reunited for their final show at the Jade Monkey in February of 2014.
Phase 3 Members
[
]
Discography
[
]
Reviews / Press
[
]
"They're quite a lot like The Drones with a little more regimentation and a little less chaos, which in some ways make them the more punishing. Both bands have a taste for that gothic Australiana where drunks and gunslingers, beaten wives and morally bankrupt preachers meet their variously grizzly ends: a little blood to lubricate the axles of the Bronze Chariot. Nigredo, meaning in alchemy blackness and purification, or in psychology the dark night of the soul, here personified as a dark traveller, he brings ruination to all those he meets. A perfect songwriter for this band, I think" (4ZZZ, 2011).
"They're stupidly angry, sound rather like Tom Waits covered by a dirge band put through a cement mixer with the distortion pedals cranked" (Spoz Rant, 2010)
"Nigredo is an album which is quite hard to define. If you can imagine a cross between Nick Cave, Black Sabbath and the Pixies, well, that might sound something like Bronze Chariot" (The Dwarf, 2011)
"Fuzzed out power chords have been replaced by the twang of telecasters and plaintive slide solos. The bass and drums still bludgeon the listener, while the guitars paint a wall of noise that could never have been possible using
their old palette. And through it all, the unholy roar of the vocals. The old paint-stripper wail is still present, but so to is a swaggering growl able to accommodate the less ferocious guitar moments. To try and make an album that captures this cacophony is an ambitious task, but somehow they've pulled it off. Capturing the shimmering definition of the guitars within a sound that is heavy, towering, scary. The album also includes quieter interludes - the opening instrumental, "Brushfire" sets the mood perfectly. On "Hellhound Hymn"and "Horseshoe Bend" the guitarists take turns at vocals, employing a baritone drone which is a marked contrast to the other tracks. Just more great parts summing the even greater whole. Nigredo is clearly the product of a band who have arrived at the sound
they were always meant to make" (Nat Stone, 2011 / The Burning Sea / Diplomat)
"While the music of Bronze Chariot is a lot heavier than anything Nick Cave has ever produced, they definitely have the stage prescience of the veteran Australian rocker" (Rave Review, 2010)
"Bronze Chariot were very impressive and arguably had a more consistent aura about their set. The act looks set to build a solid profile in Adelaide and perhaps beyond within their scene" (Faster Louder, 2009).
International Supports
[
]
Russian Circles (USA)
Zeni Geva (JAP)
Lightning Bolt (USA)
Monarch (FRE)
Earthless (USA)
Dead Meadow (USA)
Ruins Alone (JAP)