Cannibal Clown is a studio album by KidCrusher, released on August 31, 2007.
It is his most controversial album and best selling album to date, featuring the hit single "Meet The Monstors". It is indexed as the 4th chapter in the Chronicles of KidCrusher. Recorded in Adelaide, South Australia.
Track List
Edit
1
Intro
1:55
2
Look At Me
4:07
3
Meet The Cannibal

Featuring – Lawst*

3:42
4
Bottled Emotions

Featuring – Dyad Souls

4:01
5
Meet The Monstors (The Disturbed)
3:13
6
Where I Let The Bodies Rott
2:43
7
Zombie Match Makers

Featuring – Chico & The Good Buddies

3:01
8
The Bottomless Pit

Featuring – Trips

2:58
9
No Turning Back (Outro)
7:12
10
Dinner Time (Intro)
3:57
11
Flesh And Bone
1:12
12
Cannibal Cantina
2:32
13
Faces Of Death

Featuring – Teddy DKC

3:10
14
Reality

Featuring – Nascent

2:55
15
Mortician
2:30
16
The Hogtied
2:00
17
Lost Not Found (Outro)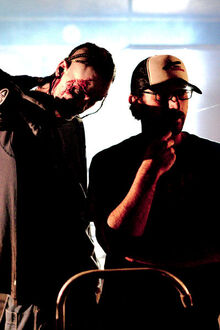 After recording in a studio and no longer having access to one, KidCrusher was determined to open his own to work for him self. This would be the final album with beats by Beatnik, who produced his first single "A Dirty Fuckin Murder". Inspiration for the album came from the German cannibal "Armin Mewies" and the movie "Grimm Love" in which a person is voluntary allows to be eaten alive as part of a sexual fantasy. Other samples and influences come from; Cannibal Holocaust, Faces of Death Documentary, Charles Manson and more. KC has noted that he spent months studying real life cannibals and cannibal movies before writing for the album.
The album name was influenced by the metal band "Cannibal Corpse" however before the album was released, a track titled "Dead Crows and a Cannibal Clown" was released by KidCrusher in 2005 for Light to Dark and Life to Death.
The album remains his most controversial and best selling album to date.
Meet The Monstors Single
Edit
The album first came into production after a single was produced for the Melbourne based zombie film "The Disturbed" produced by Strongman Pictures, the film was however in development hell and the single was produced to help fund/promote the movie. A Music video was shot on the set of the film at the most notorious Aradale Mental Asylum in Melbourne, Australia. A CD version of the single was also released featuring remixes and came with a DVD featuring the video and behind the scenes footage.
Community content is available under
CC-BY-SA
unless otherwise noted.