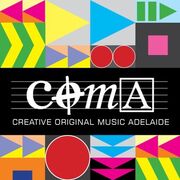 COMA (Creative Original Music Adelaide) is a not-for-profit volunteer run association supporting the presentation of original music in Adelaide.
COMA was formed by a group of Adelaide-based musicians passionate about increasing opportunities in Adelaide for the performance by both emerging and established artists of quality original music from the genres of jazz, improvised music, new classical and electronic.
Since its inception in 2005, COMA has presented ongoing concert series on the first and third Mondays of every month without interruption, as well as additional special events. Many of these performances have been recorded by engineer Marty Jones and subseqeuntly mastered by Jarrad Payne and are available for download on Bandcamp.
Current Members
Sam Cagney - Chairperson and Artistic Director
Jamie Capatch - Artistic Director
Django Rowe - Assoc. Artistic Director
Liz Charlton - Treasurer
Emily Tulloch - Grant-writing Coordinator
Anna Coleman - Secretary
Alex Taylor - Social Media Coordinator
Lewis But-Husaim - Mailing List Coordinator
Logan Watt - Video Operations
Lyndon Gray - General Operations
Angus Mason - General Operations
Nicholas Pennington - General Operations
Past Members
Community content is available under
CC-BY-SA
unless otherwise noted.