Distorted Dimension is a studio album by KidCrusher, released on March 31, 2018.
It is indexed as the 10th chapter for the Chronicles of KidCrusher. Recorded in Adelaide, South Australia and mixed and mastered in Mahilyow, Belarus.
Track Listing
[
]
Decade Of Death
Rumors (feat. Billie-Jade)
White Noise
Shadow Man
I Want To Be A Killer (feat. Cobra)
Dark Triad (feat. Coffin Carousel)
7 Billion Dead
In Your Nightmares
Digest You (My Last Lust)
Paint It Black
Bonus Tracks
Distorted Disorder
Moshpit
Electromagnetic
Dead To The World
*Bonus tracks exclusive to CD version until 2020, then released as a "Deleted Tracks" digital release.
History
[
]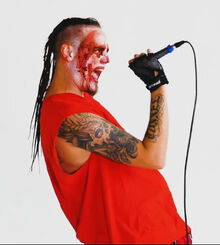 Indexed as the 10th Chapter of the Chronicles of KidCrusher, Distorted Dimension first went into production after a collaboration with Cobra for the track "I Want To Be A Killer" which influenced KC to do a Metal album. KC noted on The Drain podcast; he wanted to make something like the 2016 Doom Soundtrack by Mick Gordon. He first worked with the band "Human Pollution" on early demos for the project, however only one of their songs made it onto the album "7 Billion Dead".
Ever since "Cannibal Clown" in 2007, KidCrusher had focused more on mixtape style beats as his past producers had left the game after that release, to date, Distorted Dimension became the first original produced album since then. After a near-end search, KC found "Grave Town Productions" who finished the remainder of the album. Coffin Carousel also produced one of the singles as a collaboration.
The album was recorded in Adelaide, South Australia by KidCrusher between 2015-2017 and mixed and mastered in Mahilyow, Belarus by Grave Town. The album was due to release late 2017 but due to a delay in filming the music video for the single, the album released early 2018. Two videos were originally shot on the same day to release separately, however KC wasn't happy with the 2nd video and only released snippets of it.
In 2019, the album was nominated for "Album of the Year" by The Underground Australia but finished 4th.
In 2020, the album was released on a limited 12'' Vinyl at Victim Gear.
Trivia; Deleted track MOSHPIT was originally track 3 on the album and taken out last minute and replaced with an intermission, due to advanced negative feedback on the track. Another track with the same vibe was never finished - taking the album too far into a screamo metal album. Influences for the album include; Doom, Slipknot, Korn and Marilyn Manson.
Triva; The track SHADOW MAN is based on true events with KidCrusher. He said on The Drain, he has been trying to talk and write about these experiences for years due to being tormented by this figure. One night he was dragged out of his bed and this song poured out of him like a possession.
On each chapter of KidCrusher albums, a sampler/mystery track is usually featured to give clues on the next album, on Metal Murder 3D (before this release) it was hinting at a follow up to the Black Circle Magic series. However due to high demand from fans to make something new and fresh, the idea was left behind. Distorted Dimension is the first album to not feature a "clue" to the next album, but recently spoke out about side projects coming out before a new KidCrusher mixtape.
Videos
[
]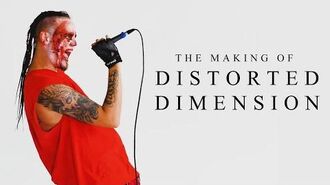 Listen / Buy
[
]
Distorted Dimension on Youtube
Distorted Dimension on Spotify