Jurassic World: Dominion Dominates Fandom Wikis - The Loop
Play Sound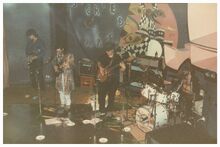 Distorted Tarts was a rock band from Adelaide that formed in 1986.
Biography
[
]
The group was established after Steve Matthews from Neighborhood Threat (guitar and vocals) started jamming with Rough Mix members Phil Catley (guitar), Barrie Paraskeva (bass) and Mark Trimboli (drums). Rough Mix was on a hiatus while its songwriter and driving force Bruce Dick (Harley) was overseas driving the bus for the touring Australian Women's Lacrosse team.
When Bruce returned and found his rhythm section playing with another leader there was a bit of tension. Rough Mix folded and Bruce formed The Love Gods, a new original band with new musicians. Distorted Tarts had begun as a side project, but was now the main focus for what remained of Rough Mix. In a show of friendship Rough Mix played its last show as a support act for Distorted Tarts in November 1986 at the Marryatville Hotel.
In 1987 Phil Catley went overseas for several months and was replaced by Bruce Harley for a few shows. A short time later a very young Shane Dennis joined the band as singer and a Demo EP was recorded. The EP received airplay on what was then 5MMM (now Three D Radio), reaching the Top 5 for a few weeks. The band played the usual haunts around Adelaide, but never really established a strong following.
The Distorted Tarts played almost exclusively original material, with the exception of two covers - "Hanging Around" by The Stranglers, and "We've Got to Get Out of This Place" by The Animals. The band's style was basically 'original guitar rock'.
The bond between the Barry and Phil intensified, and in 1989 they left the Distorted Tarts to rejoin Bruce Harley to form The Curse of Lono. The Distorted Tarts then disbanded in 1989, with Steve Matthews forming a new band called Culla, with a new drummer, performing mostly originals, which also played around town. Steve then went to TAFE and to earn a Diploma of Music. He now teaches guitar and has attempted to re-establish The Distorted Tarts with some of the original players.
Members
[
]
Shane Dennis - Vocals
Steve Matthews - Vocals, Guitar
Bruce Dick (Bruce Harley) - Vocals, Guitar
Phil Catley (Philby Ramone) - Vocals, Guitar
Barrie Paraskeva - Bass
Mark Trimboli - Drums