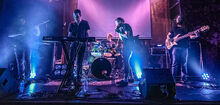 Dyssidia is an extreme progressive metal band from Adelaide.
The band was formed in 2010 by Jesse Olley, Corey Davis and Nathan Harvey. Bassist Neil Palmer joined in 2011 and vocalist Mitch Brackman joined in mid 2012. In 2015 Liam Weedall (Double Dragon, Asphyxia) took over as the bands drummer. Shortly after Weedall joined, the band acquired the support slot for the Adelaide leg of world renowned progressive metal band, Opeth's, 'the Pale Communion' tour.
Current line-up
Mitch Brackman - vocals
Corey Davis - guitar
Dimi - keys
Neil Palmer - bass
Liam Weedall - drums
Previous members
Jesse Olley - drums
Nathan Harvey - keys
Ashley Miller - keys
Quiet Waters - (2013)
Children of Aether and Earth - (2015)
Of Delight & Despair - (2016)
Costly Signals - (2020)
"Dyssidia have the technical chops and arrangement know-how to take on the world stage." - The Music
"Dyssidia displays reams upon reams of raw talent and potential" - Heavy Mag
"This was impressive progressive metal on a much darker scale than I have ever really heard" - Metal Wani
"They were stunning to absorb, both visually and audibly." - TEO Mag
"There is no denying the talent this quintet upholds" - Heavy Mag
"If you are a fan of complex arrangements, tight musicianship and a plethora of timing changes you need to look no further than Adelaide's Dyssidia" - Live Music Adelaide
Community content is available under
CC-BY-SA
unless otherwise noted.