Jurassic World: Dominion Dominates Fandom Wikis - The Loop
Play Sound
EP Productions is a band based in Adelaide, South Australia formed in 2005 and consist of two members (Malakian & Peter Because) who may or may not be and or related to none of the above including and excluding everyone except you. They are noted to be a snazzy alternative experimental pop rap rock metal jazz noise comedy group
They are well known by nothing, except that thing they did that one time on Yahoo! Chat live, however nobody was in attendance to verify the events that happened. They claim to have won awards for several albums but can't find them or recall what they were for. However they were involved in a controversial collaboration with Australian hip hop artists Hilltop Hoods as the group later lodged a cease and desist letter against EP to remove the track, due to a backlash from their own fan base of lads, who couldn't quite get jiggy with it. A new version of the song remains online without the groups collaboration but dedicated to the group, titled "Hilltop Hoods" the original mix entitled "OzTipTop" racked up over 200,000 plays and smashed the iTunes charts, but was shot down in a blaze of glory.
In 2006 they released two comedy film dubs for Riki-Oh: The Story of Ricky (Dubbed: EP Productions: Story Of Beautiful Ricky) and Ichi The Killer (dubbed: Ricky II Crazy). They have released too many albums that can't be found online, unless you have eyes and fingers. However the majority of their albums have been banned or censored due to Tony Abbott. But try YouTube and Spotify, Amazon, Apple Music. No!
History
[
]
Malakian and Peter Because, both found each other while lost in Elizabeth. They were both looking for the closest Centrelink so they could lodge their dole forms together and buy a garlic yiros. After the feast, they decided to make an EP called EP and had no other choice but to call their band, EP.
The meaning behind the band name was found behind a dumpster at blockbuster video written on ancient scrolls featuring over 150 variations of the translation of what the foundation of EP stands for. However the language is untranslatable to the human mind. So just stick with EP!!
After they maxed out cd space on their first EP, they made volume after volume of drunken madness. 11 volumes were made over a couple years before they started video skits (EP News) and foreign comedy dubs (Story of Ricky). They released a best of EP album digitally in 2018 entitled CRAZY! AMAZING! YEAH! after they rose to fame from the Hilltop Hoods controversy. They'd like to note, they are all still buddies with Hilltop and have barbecues together with real lumber and beers.
They have conducted several interviews throughout their EP's including: Judge Judy, Dr. Phil, Arnold Schwarzenegger and more. Several featuring artists on their work include: Gary The Rapist, Snazzy Sam, Simon The Retard, An Old Man, Santa Claus, The Department of Water Resources, Garden Gnomes, 3pac, Mint man and Coconuts, Kony, 3 Blind Men, Abdulah Hemlock, Geoffrey Leonard, Centrelink, Angry Aboriginal and of course The Hilltop Hoods.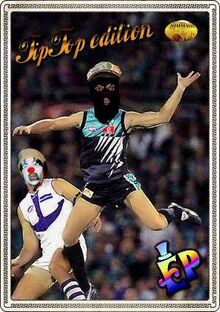 Discography
[
]
EP (2005)
2 (2005)
3.0 (2005)
IV (2005)
5: Stayin' Alive (2006)
6: 6 sixty 6 (2006)
7: In Heaven (2006)
8: Christmas Rape (2006)
9: Behind Enemy Lines (2006)
10: Will You Be My Friend (2010)
11: Stolen Generation (2011)
Crazy! Amazing! Yeah! (2018)
Filmography
[
]
Year
Title
Role
Notes
2006
56k Dialup
Malakian

Peter Because

Gary The Rapist

Mintman & Coconuts

Also Director & Producer
2006
Story of Beautiful Ricky
All voices
Copyright
2007
Ricky II Crazy
Yes
2012
EP News
Malakian

Peter Because

Lumber
2013
Mint Man: The Movie!
Mint man
2014
Greatest Movie Ever
Unreleased
Links
[
]