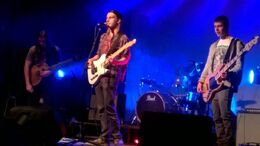 Evilface are a progressive rock band formed in Adelaide, Australia. Formerly the solo project of Adelaide independent musician, Marty Lee (Martin Derer), Evilface officially started releasing music in 2010, and became a full band in 2013 when Dylan Boller and Doug Connolly joined.
Evilface's style incorporates rock, folk and jazz influences, frequently venturing into more diverse styles such as jazz fusion, alternative rock, post-punk, and metal.
Evilface released a full length release in 2014, titled Falling Into Spaces, and are in the progress of recording a follow up release in the near future. They continue to play shows around Adelaide and surrounding suburbs.
Marty Lee was previously involved in former local bands, Moonhead, Envy Street, Paranoia (which later became Inferiority Complex), and Twisted Sun.
Official releases
Demos
"Shitty Demos" (2010) - Demo Cassette
"Spine (Mix 2)" - Promotional Single
"Eyes" (2010) - Single (Mp3)
Current Members
Marty Lee - Vocals, Guitars, Keyboards, Woodwinds, Additional Drums/Bass
Dylan Boller - Guitars, KORG Synth (2013 - Present)
Douggy Connolly - Drums, Percussion, Additional Vocals/Guitar (2013 - Present)
Tyson Armstrong - Bass (2014 - Present)
Past Members
Community content is available under
CC-BY-SA
unless otherwise noted.