Jurassic World: Dominion Dominates Fandom Wikis - The Loop
Play Sound
Fragmenta is an Australian heavy metal band from Adelaide formed in 2006. Fragmenta currently consists of Duncan Fisher as lead guitarist and vocalist having been the only consistent member and Damien "Ryu" Uesugi on drums since early 2012.
They are known for their intense shows, theatrical stage appearance and continuously evolving sound.  At times, they had used visual elements such as stage props and with members donning cyberpunk accessories and ninja suits. Since forming Fragmenta have released one EP and two studio albums.
History
[
]
Formation and The First Assault

[

]
Fragmenta formed in 2006 with original members Duncan Fisher on guitar and vocals, Zac Backs on second guitar, Mike Ward on bass and Cameron Hynd in the original lineup.
Fragmenta started attracting attention throughout Adelaide with their first show in December 2007 which became well known due to the band's audience interaction in which they had the large crowd participate in activities such as a circle pit and the "wall of death". A video of this show is in circulation.
The band soon after released their first demo titled The First Assault consisting of thrash and heavy metal. This EP was available for purchase at shows through the band and received widespread airplay on local and international radio.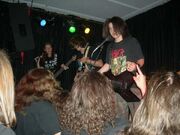 In mid 2008 Fragmenta recorded a demo entitled Merchants of Doom released as a single. Merchants of Doom featured progressive elements such as odd time signatures and technically challenging instrumentation. It received moderate airplay and appeared on the compilation Downtown Metal released internationally from Baltimore label Quickstar Productions.
Lineup change and Sedition (2010-2012)

[

]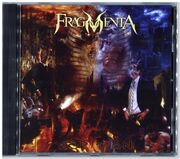 Fragmenta was on hiatus the majority of 2009. Fragmenta regrouped with new members Andrew Gasson on second guitar, Saxon Bell on bass and Sam Stretton on drums. The new lineup marked Fragmenta's return to the stage and the recording process of their first studio album.
On the 20th of October 2010, it was announced on the band's website that they were beginning tracking the album and then announced on the 20th of June 2011 that the album master tracks had been received by the band and that the album will be titled Sedition.
Sedition was released on the 11th of October 2011, almost four years after The First Assault. The album was available as a legal download online or as a CD. "Sedition" showed the bands evolution of sound during the four years between The First Assault.
The album has been well received, earning positive reviews on popular metal websites and music magazines. Sedition has been described as carrying the primary sound of classic heavy metal, thrash and groove metal at its core (having re-recorded all the previous demos) and with the addition of industrial elements such as synthesizers and sounds to create larger soundscapes, additional percussion and a track consisting almost entirely of ambient noises called 'Assimilation'.  The album was recorded and produced in Duncan Fisher's home studio called the DM3 Music Studio.
It was annouced on the bands website that on the 5th of February 2012, Gasson, Bell and Stretton had all left the band due to inability to continue commitment. Former members Backs and Ward briefly joined again on guitar and bass respectively. Damien Rompapas (now named Uesugi) replaced Stretton on drums.  The band then functioned as a three piece for it's interstate tours to promote Sedition.
Odimorsus and Legacy Records (2013-present)
[
]
Fragmenta signed a record distribution deal with Legacy Records, a German based metal label.  This was announced first on their official website and then in various newspapers and magazines.  After having announced several times they had been working on new material for the last year, the band finally announced the start of the tracking process which was also mentioned in press.  In the proceeding months they partially documented the recording process and noted the heavy and personal themes behind the album including loss, insanity, drug withdrawal, suicidal ideation and death. Most notably were deaths of family and friends of the band and Duncan Fisher's despondency.
"We all went through a lot of personal pain in the last few years which made for very genuine inspiration. The emotion in these songs is very raw and we all pushed each other to let it all out but that's where the most powerful stuff comes from" Fisher stated in a press release outlining the band's mental state at the time of recording and its influence on the sound.  The singles No Pulse and Dismantled were released May and June of 2014.  On September 19, Fragmenta released Odimorsus independently and through Legacy Records shortly after.  Odimorsus is so far recieving considerate airplay, features on globally distributed compilations and recieving favourable reviews.
The sound has been described as modern post-thrash featuring heavy riffs, aggressive vocals and numerous guitar solos but also utilizes more song dynamics, industrial sounds and lower tunings on several occasions which along with the ballad Eternal Flame is a first for Fragmenta.  The band experimented further with unusual instruments including the use of a balalika on Hi-Tech, Low Life.  Reviewers have noted the album's darker sound, technical perfomances and production.  The songwriting featured in Odimorsus is varied and takes influence from thrash, death, doom and classic metal, grunge, progressive rock, industrial, funk, video game soundtracks and even folk and blues.  The album was once again produced at the DM3 Music Studio based in Willunga, South Australia.
Style and Sound
[
]
Fragmenta's sound is primary influenced by classic and modern thrash metal (especially evident on The First Assault) featuring guitar solos and combining elements of groove metal, grunge, industrial metal and alternative metal in their guitar sound.  Other noticeable influences are classic rock, progressive rock/metal and death metal employing rapid kick work and blast beat drumming. Fragmenta is credited as being ever evolving with further experimentation in each release. Fragmenta uses samples, synths and layers of noises and unorthodox percussion, often carried to live shows to create accompany their music with cinematic soundscapes. Vocalist Duncan Fisher employs a variety of vocal styles ranging from a wide octave range of melodic singing, harder edged hardcore shouts and extreme deliveries such as growls and screams commonly heard and death and black metal.
Criticism
[
]
Appearance on Today Tonight
[
]
Fragmenta appeared on controversial current affairs program "Today Tonight" with reporter Frank Pangello describing them as being a violent attack on the senses and having dark themes. The band was shown in rebroadcasted online footage of several live shows and a leaked, unmixed version of "River of Fear" from the album "Sedition" before it was released.
Members
[
]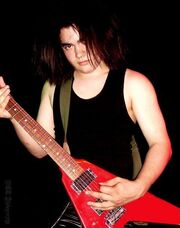 Current Members
Duncan Fisher - Lead vocals, Lead Guitar (2006–present)
Damien "Ryu" Uesugi - Drums (2012–present)
Former members
Andrew Gasson - Guitar (2010-2012)
Saxon Bell - Bass (2010-2012)
Cameron Hynd - Drums (2006-2010)
Zac Backs - Guitar (2006-2010, 2012)
Mike Ward - Bass (2006-2010, 2012)
Sam Stretton - Drums (2010-2012)
Steve Koutsoliotas - Bass (2013-2017)
Timeline
[
]
Discography
[
]
EPs
The First Assault - (2008)
Studio Albums
Sedition - (2011)
Odimorsus - (2014)
Singles
Dismantled - (2014)
No Pulse - (2014)
External links
[
]