Jurassic World: Dominion Dominates Fandom Wikis - The Loop
Play Sound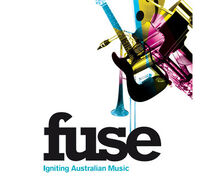 Fuse Festival is an Australian Music festival and Music Business Conference held annually in the South Australian capital of Adelaide in February. The Fuse Festival was established in 1996 and features keynote addresses, panel discussions, round table discussions and the opportunity to meet with the industry elite from the Australian and International Scene that Fuse have brought to Adelaide.
In 2011 Fuse will run two open showcase nights on 16 and 17 February, and conferences will run on the 17th and 18th during the day. On the final night Fuse is teaming up with the Adelaide Fringe Opening night, curating the best of Australia's new emerging artists.
Fuse is a not-for-profit, largely government funded event through Arts SA with a focus upon deriving outcomes for all those who attend the conference. It's a platform to learn from industry professionals and to showcase your band.
History
[
]
Fuse Festival first ran as Music Business Adelaide in 1996 as an industry development conference. Initially based loosely upon the South By South West model for Music Conferences, Fuse has proven to become an important source for knowledge and industry contacts.
In 2006 the move to house Fuse Festival within the Adelaide Fringe organisation was instrumental to the development of the event. Significantly, the Adelaide Fringe's mission statement includes a desire to 'encourage, support and assist independent artists in the development and presentation of their work' complimenting every aspect of the Fuse Festival.
Fuse 2008
[
]
In 2008 Fuse focused on Audience Development, covering Festivals, Touring, Social Networking, Promotion and Media and Publishing. In conjunction with Fuse Festival, South Australian Film Corp announced an initiative to help support South Australian based musicians and South Australia film makers to collaborate.
Explode
[
]
Explode is held to herald the beginning of the Conference. It's a celebration and a time to network for the delegates and the conference attendees. 8 bands are selected from around Australia to play, in 2008 Nova and Triple J held competitions to allocate the 2 remaining slots on this bill. The winners were, respectively, The Transatlantics and Eva Popov.
Ignition
[
]
Ignition was the open showcase for the Fuse Festival. Bands could register to attend the conference and play a show.
The Fuse Festival does not actively seek out bands to play Ignition. Provided that a band finds their venue and negotiates with other bands performing that night, all applications are accepted.
In 2008 57 bands registered to play Ignition, sandwiched into 25 venues around the square mile that makes up Adelaide CBD.
2008 Speakers
[
]
Speakers for 2008 included: Angela Beal, Bill Cullen, Caroline Tran, Chris Gough, Christie Eliezer, Clive Hodson, Craig Armstrong, Dan Lander, Eloise Nolan, eMDee, Geoff Trio, Gordon Andersen, Heath Bradby, Iain Shedden, Jacqui Kassulke, Jaddan Comerford, Jane Intini, John Kelly, Keith Welsh, Leanne De Souzza, Mal Chia, Marianna Annas, Mark Meharry, Marshall Cullen, Martin Elbourne, Matthew Proft, Michael Chugg, Nathan McLay, Owen Orford, PJ Murton, Rev Moose, Rhoda Roberts, Richard Harris, Richard Moffat, Rob G, Rob Scott, Sam Kelton, Sebastian Chase, Stephen Foster, Steve Griffiths, Stu Buchannan.
2008 Ignition Bands
[
]
Ignition Bands for 2008 were: Tin Alley, Delia & Her Heroes, Tony Font Show, Jigsaw Collective, Sonny Keeler, Coby Grant, Behold The Sun, Bridget Dean, The Borderers, General Knowledge, Double or Nothing, Matty Johnson, GrÜbenstyle, Tha Deadly Boyz, The Beards, Twelve Dollar Monkey, Extended Family, Battle Circus, Ben Slip, Mei Lai Swan, Naomi Hicks, Warren Milera, The Giveaways, The Ramblers, SuperBee, C.O.K.E., Soft White Machine, Poetikool Justice, Lines & Lines, Karnage, Bill Parton Trio, Glenn Skuthorpe, Raw Ether, The Amcats, The Kemp Brothers, Squeaker, Quintastella, 5114, The MERRg, Temple Tigers, Zenith ASP, Granny Flat, Fighterpilot, Botanics, Lyla, The Avi Sol, Vorn Doolette, Tyger Tyger, The Woodenelves, Jimbah, Social Change, Legless, Kytes of Omar, Aftashok, The Transatlantics, The Fiddle Chicks, Task.
2008 Explode Bands
[
]
Explode Bands for 2008 were: The Devoted Few, The Transatlantics, FunkOars, Leah Flanagan, City Riots, New Season Black, Eva Popov, Leader Cheetah, Tin Alley.
Fuse 2009
[
]
Fuse 2009 was opened by keynote speaker Glenn Wheatley. This was the first year the Explode showcase took place in Rymill Park.
2009 Fuse Speakers
[
]
2009 speakers included: Mark Meharry (Music Glue), Mike Gormley (Yes, Dear Entertainment), Peter Jesperson (New West Records), Rev Moose (The Underground Management/CMJ), Stephen Budd (Stephen Budd Management/Barfly), Adam McArthur (moshtix), Andrew Walker (Buxton Walker), Angela Beal (Channel V), Bernard Galbally (Mana Music Publishing), Catherine Haridy, Chris Gough (Native Tongue), Chris Johnson (AMRAP), Chris Maund (Ivy League), Christie Eliezer (Billboard/BRW), Clive Hodson (Shock Music Publishing), Eloise Nolan (ABC Music Publishing), Geoff Bell (Laing Entertainment), Geoff Trio (Code One), Heath Bradby (Fidelity Group), Iain Shedden (The Australian), Ian James (Mushroom Music Publishing), Jadden Comerford (The Staple Group), Jamie Gough (Native Tongue), Jordan Verzar (Top Shelf), Julie Hodges (Mushroom Publishing), Keith Welsh (Rough Cut Music), Luke Bevan (Universal Music), Marianna Annas (MIPI), Marshall Cullen (Foghorn Media), Michelle Buxton (Buxton Walker), Neil Richards (Square One), Nick Finlay (Triple J), Richard Moffat (Way Over There/RRR Radio Melbourne), Rob Scott (QT Music/Sandcastle Music), Sebastian Chase (MGM), Stephen Green (Q Music), Steve Griffiths (Code One/Fork Music), Stu Watters (Australian Independent Records), and Vicki Gordon (VGM Media & Marketing).
2009 Ignition Bands
[
]
The 2009 Ignition bands were: The Readymades, Kytes of Omar, Jackson Firebird, The Beards, Decortica, Speekup, Metrical Minds, Dialect, Social Change, Monkey Puzzle Tree, Saint Huck, The Amcats, Young Hearts Fail, Armour Fou, The Fak, Quiet Child, Double Handed, Gracewood, Stu Wright, Your Motive For, Tomorrow Is, Tracer, The Irresponsibles, Squeaker, Raw Ether, Buster Fidez, Mastertheif, The Shiny Brights, The Sunpilots, Galleon, City Riots, Esther Lamb, Birds of Prey, The Killgirls, Villianares, Femme Fatales, The Giveaways, Sonny Loveless, Burn' Collect, Under the Lemon Tree, Keiran Glasgow, Deafening Silence, April Maze, Roy Mackonkey, The Sure Shot Hunters, Endless Nameless, Amundsens Flag, The Baron, Mayfield, Billy Bishop Goes to War, The Touch, Tyger Tyger, Red Plum and Snow, Country Town Collective, The Aviators, Jess Ribeiro and the Bone Collectors, Jigsaw Collective, The What 4, Ben Slip, Suzie Stapleton, Willie McRae, and Alicia Vega.
2009 Explode Bands
[
]
The 2009 Explode bands were: Behind Crimson Eyes, Cloud Control, Poetikool Justice, The Shiny Brights, The Sundance Kids, FisherKing, Jess Ribeiro and the Bone Collectors, and The Touch.
Fuse 2010
[
]
The 2010 Fuse conference was opened by keynote speaker John Woodruff.
2010 Fuse Speakers
[
]
2010 speakers included: Iain Sheddon (The Australian), Chris Johnson (AMRAP), Christie Eliezer (Billboard/BRW), Vicki Gordon (VGM Media & Marketing), Nick Findley (Triple J), Catherine Haridy, Scott Mesiti (Sonicbids), Geoff Trio (Code One), Rhoda Roberts (Dreaming Festival), John Sinclair (Premier), Peter Noble (Bluesfest), Steven Foster (Tank Arts Centre), Luke Bevans (Universal Music), Chris Maund (Ivy League), Nick O'Byrne (AIR), Sebastian Chase (MGM), David Vodika (Rubber Records/AIR), Jaddan Comerford (Staple), Marshall Cullen (Foghorn Media), Millie Millgate (Sounds Australia), Stu Watters (Morph Media), John Woodruff (JWM Productions), Greg Marsh (SAFC), Sacha Sewell (BDO), Scott Hicks (Kino Films), Gordon Andersen, Jett Heysen Hicks (Mayfield), Steve Clarke (Blue Empress Music), Sue Arlidge (Songfront), and Mick Wordley (Mixmaster Records).
2010 Ignition Bands
[
]
The 2010 Ignition bands were: Alicia Vega, Autumn Sun, Batter Kids, Behind These Walls, Ben Slip, Blackchords, Bohoeffer, Colonel Kernel, Colourise, Deja Entendu, Dexter Jones, Drawn From Bees, Element AU, Erosion, Fraud Millionaires, Fridays, Georgia Germein, The Giveaways, Gracewood, Guild Free, Jackson Firebird, Jay Walker and the Pedestrians, Jimmy and the Mirrors, Jupiter Lead, Killgirls, Laura Hill, Leroy Lee, Louis Fuller, Lyla, Monenta, Move to Strike, P90s, Paper Arms, Party, Paul AppelKamp, Pimpin Horus, Rocketbox, Rooftops, Shane Steer, She Said You, Shiny Brights, Skye Harbour, Sonny Loveless, Squeaker, Steering By Stars, Stu Daniels, Sunset Blush, The Medics, The Touch, Traps, Van Cleef, Vorn Doolette, Woohoo Revue, Yasmine Amari, and Your Motive For.
2010 Explode Bands
[
]
The 2010 Explode Bands were: KingFisha, The Beards, Mayfield, Foxx On Fire, Delta, The Paper Scissors, The Swiss, and Hungry Kids of Hungary (Jim Blah, Laura Hill, The Medics, Jimmy and the Mirrors, and The Killgirls played the Ignition stage at the Explode event)
Fuse 2011
[
]
For 2011 Fuse is changing the structure of the festival, working closer with the Adelaide Fringe in order to improve the benefits for showcase bands. 'Fuse West' and 'Fuse East' will split what previously was the 'Ignition' showcase night so that there will be less distance, and less competing between shows. Also, on the final night of the festival Fuse will curate 8 bands on a Fuse stage to coincide with the Adelaide Fringe Opening night. There will still be two days of conference, and masterclasses in management and songwriting.