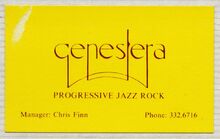 Genestera was an Adelaide based Jazz Rock band that formed in 1974 and disbanded in 1982.
Australian progressive jazz rock band Genestera were formed in 1974 by founding members, Tony Catalano (early teacher of James Muller), Mark Cornwall and Frank Marino.The band worked around the traps performing original music at various venues in Adelaide including the alternative music scene called "Bijou" which covered events held in the hills and Adelaide from 1974 onwards. Genestera did some recording in the ABC studios for the radio show "rocktornal" and for ABC TV version of the same program, they also won a recording session as part of a promotion of Adelaide bands. There is a tape of the TV show with them performing live in an ABC vault. When Genestera split in 1982 the members formed various other groups, some still today working in the music arena. Tony Catalano had a varied career as a session player and was in the Larry Golder's jazz band "henceforth" in Adelaide, the funk rock band "Fat time" in Sydney , as well as with "samba suave" doing original and Brazilian music in Adelaide. He is currently still performing original compositions. Frank Marino studied composition at university and is working as a session musician as well as recording his own compositions. Frey Micklethwait after a long hiatus from music, began writing again and linked up with Frank Marino. They began a collaboration known as "2FM," 11 of their works are on YouTube to date. Frank is also working with other musicians and writing prolifically. Mark Cornwall moved to sydney where he is the bass player for the band "2 million beers." Mike Mathews resides in Melbourne where he is a highly respected session bass player. He has worked with numerous musicians and recently released his first solo album "Mosaic" as well as working with Joe Chindamo.
Tony Catalano - guitar
James Sked - bass
Frank Marino - drums
Past and Occasional members
Mark Cornwall - bass
Mike Matthews - bass
Frey Micklethwait - saxophone
Louis Jones - violin
Mick Hogan - drums
Lou Pompeli - drums
Community content is available under
CC-BY-SA
unless otherwise noted.