Gondwanaland is a studio album by KcaveMen released on the 11th of May 2010.
The album was produced by KidCrusher and Todd Hansen. This is the 3rd album by the band, however the first studio recording.
Climate Change
Cannibalistic
Short N Sweet
Mortal Flesh
Ka-Boom-Boom!
Fertility Dance
Defrost
Coconuts
Camping BC
Tuna
Earth
The Wheel
Frozen
The Rapist
Mammoth
Love Not Hate
Spongebob (Metal Remix)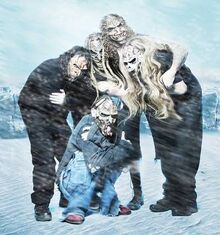 The band was first founded in 2005 by KidCrusher and Peter Because, however only demo albums were produced without studio equipment and they never performed live. It wasn't until KC teamed up with drummer Todd Hansen on bringing the band to the stage with a studio album. They recruited new members to play live, majority of the album was written and produced by KC and Todd over one year.
They headlined a Gondwanaland Australian Tour with Headkase in 2010.
Peter Because was intended to be apart of the album but left before recording began. His vocals remain on the single "Spongebob" which was originally recorded and released on the 2006 demo album "Return for Snack".
The single for "Spongebob" was featured in the Nickelodeon Kids Choice Awards competition and received over 300,000 views on YouTube.
Tracks 2-5 were written by Matt Ford, 6 was written by Norwood Grimes, 7-13+15-17 were written by KidCrusher, 14 was written by Zeke Sporn.
Dong (KidCrusher) - Vocals / Producer / Guitar
Plop (Todd Hansen) - Drums
Glob (Peter Because) - Vocals (spongebob only)
Bort (Norwood Grimes) - Bass
Oogah (Zeke Sporn) - Guitar
Zorg (Matt Ford) - Guitar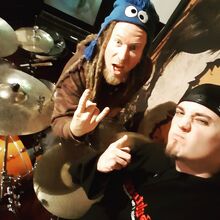 After the Gondwanaland Tour, the band opened for the American band Devolved and then headlined Toddfest in Brisbane in 2011, then the band announced they would be going on ice until the future. In 2020, KidCrusher posted an image with Todd Hansen with the caption "The ice is melting"
Community content is available under
CC-BY-SA
unless otherwise noted.