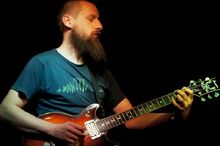 James Brown is a guitarist, bassist and studio engineer from Adelaide.
Brown grew up in Adelaide, South Australia, writing and performing in a variety of bands with some of Adelaide's jazz, rock and experimental musicians. While his roots lie firmly in the jazz tradition of improvised music, he has explored many genres, from the avant-garde and experimental, such as his collaborations with bassist Lyndon Gray in Glass Indian and Bestseller - the latter writing and performing live music to silent films by Charlie Chaplin - through to the experimental groove-based improvisations of The Raucoustra, with multi-instrumentalist and long time collaborator Adam Page. He later took part in a collaborative project conceived by Page and celebrated composer John Psathas (NZ) entitled The Harvest which was released on Rattle Records. Brown was also a member of The Grand Szechuan featuring drummer Riki Gooch (NZ) and led the instrumental indie-jazz-rock group Only The Sky, releasing their debut album One in 2013.
Other projects Brown has been a part of include the creative collective 1.1 Immermann (led by renowned Adelaide drummer Jarrad Payne) and the Jazz/Electronica outfit Kubrick, both of these acts have been documented with the full-length album releases 1.1 Immermann (2008), Extra Knusprig (2013) and Think (2007). He was also a member of the modern-jazz quartet Splinter Group, a recording of which can be heard on the ABC Jazz compilation Home Grown and Rare (2007).
James Brown was previously the artistic director of Creative Original Music Adelaide (COMA), along with fellow guitarist Sam Cagney. Brown and Cagney formed a bass-less double guitar trio with drummer Stephen Neville called Yeahyeahabsolutelynoway! - a group central in the establishment of the Adelaide Jazz Collective. James also established Wizard Tone Records in 2015 with fellow musicians Adam Page and Jarrad Payne. At their studio he engineered a track for Sia Furler's album 'This Is Acting.'
Community content is available under
CC-BY-SA
unless otherwise noted.