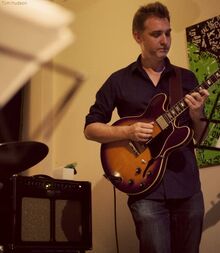 James Muller was born in Adelaide, South Australia in 1974 to musical parents. He is currently known and performs as the guitarist of The Airbenders as well as teaching guitar at the Elder Conservatorium. He can also be seen performing with the James Muller Quartet and as a guest with The New Cabal, Hindley Street Country Club and several others.
Biography
Edit
He became interested in music at an early age and began playing the guitar at the age of 12. Initially inspired by rock music of the sixties and seventies his love of jazz took over at the age of 16. Two years later James was gigging in the working band of renowned clarinetist/saxophonist Andrew Firth with whom he stayed until 1994.
After working with the cream of Adelaide's jazz and rock musicians James relocated to Sydney in the summer of 1996, where he quickly became one of the most in-demand guitarists in the country. He has played and recorded with Australian artists Vince Jones, James Morrison, Dale Barlow, Mike Nock, Renee Geyer, Bernie McGann, Don Burrows, Mark Isaacs, Sean Wayland, Katie Noonan, Rai Thistlethwayte, Steve Hunter and Scott Tinkler as well as international artists Chad Wackerman, Bill Stewart, Vinnie Colaiuta, Adam Nussbaum, Jay Anderson, Steve Tavaglione, Maria Schneider, Tim Ries, Tony Moncao, Christian McBride, John Scofield, Donny McCaslin, Bob Sheppard, Matt Pendman and Jochen Rueckert. As well as performing nationally, he made several tours to Europe including with the Chad Wackerman band in 2000 and the Theaktet in 2001 and 2004. He featured on Chad Wackerman's albums Scream (2000) and Legs Eleven (2004).
James Muller has also recorded five studio albums under his own name, the most recent Neurotica was released in February 2015. He has also since returned to live and perform in Adelaide, South Australia. Muller regularly performed his original material on a Thursday night at Chihuahua bar with Angus Mason, Tim Bowen and Chris Soole. In 2018 he released the live album Live at Wizard Tone featuring renowned American saxophonist Will Vinson. He also performed with the newly formed local group the Hindley Street Country Club that same year.
James Muller's second album "All Out" won an ARIA award for best jazz album in 2000 and the third, "Thrum" was nominated for the same award in 2002. In 2000 James was co-winner of the National Jazz Awards held at the Wangaratta Jazz Festival and in 2001 he won two Mo awards for best jazz instrumentalist and best jazz group. James won an APRA award for most performed jazz work 2003, and also won the 2004 Freedman Fellowship (Jazz). In 2013 he was awarded a two year Australia Council Music Fellowship, one of the highest musical honours in Australia.
Community content is available under
CC-BY-SA
unless otherwise noted.