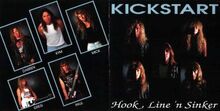 Kickstart was a hard rock band from Adelaide that formed in 1991 and soon released a self titled, four track EP / demo cassette.  The band had a strong local following and two albums were released – 'Hook, Line 'N Sinker' in 1993 (seven track mini-album) and 'Your Life For Today' in 1994. Their drummer Darren Lee later went on to join BB Steal, Twelve at Dawn and Ethyls Wreck. A third and final album titled 'The Way You Want It' was released in 2005, featuring unreleased tracks from the early 90s. Several band members including Kym Farrell and Mick McClounan formed part of an obscure hard rock band, Kyndred, who released an album titled 'Poor Man's Opera' in 1998.
Kym Farrell - lead vocals
Darren Geenhalgh - drums
Paul Hayes - bass, vocals
Greg King lead - guitar, vocals
Mick McClounan - guitar, vocals
Community content is available under
CC-BY-SA
unless otherwise noted.