Line 10:
Line 10:
 
 
 

==History==

 

==History==

−

Born and raised in South Australia, KidCrusher began making rap music in 1996 with influences from Spice 1, Gravediggaz and most notable the '''Tales from the Hood''' (soundtrack) as a key to begin his horrorcore venture, recording on cassettes and self producing.

+

KidCrusher began making rap music in 1996 with influences from Spice 1, Gravediggaz and most notable the '''Tales from the Hood''' (soundtrack) as a key to begin his horrorcore venture, recording on cassettes and self producing.

 
 
 

In 2003 he formed his first metal band "[[Rectal Birth]]" the group performed live but never released an album due to the lack of commitment from the other members, he was then a founding member of a rap supergroup [[Subterra]] which released two albums between 2004-2005. After the groups demise he decided to attempt a solo album influenced by Insane Clown Posse, his first single "'''A Dirty Fuckin Murder'''" was released online with a self made music video which gained over 300,000 views online YouTube and developed a cult following, this pushed him to record and release his first studio album "[[Tormented Mutation]]" in 2006 and focus on a solo career.

 

In 2003 he formed his first metal band "[[Rectal Birth]]" the group performed live but never released an album due to the lack of commitment from the other members, he was then a founding member of a rap supergroup [[Subterra]] which released two albums between 2004-2005. After the groups demise he decided to attempt a solo album influenced by Insane Clown Posse, his first single "'''A Dirty Fuckin Murder'''" was released online with a self made music video which gained over 300,000 views online YouTube and developed a cult following, this pushed him to record and release his first studio album "[[Tormented Mutation]]" in 2006 and focus on a solo career.

Line 24:
Line 24:
 

In 2018, KidCrusher released "Distorted Dimension" It features one of his most popular singles to date "In Your Nightmares" KC quoted it is the first completely original instrumental production since his 2007 album "Cannibal Clown" and felt it's an inspiration to that project. [[File:KidCrusher - 2020 Netfest- On Your Couch (Full Performance)|thumb|330x330px]]

 

In 2018, KidCrusher released "Distorted Dimension" It features one of his most popular singles to date "In Your Nightmares" KC quoted it is the first completely original instrumental production since his 2007 album "Cannibal Clown" and felt it's an inspiration to that project. [[File:KidCrusher - 2020 Netfest- On Your Couch (Full Performance)|thumb|330x330px]]

 

In 2020, KidCrusher announced he is working on 3 new albums and a single, two of the albums being side projects along side a new KidCrusher mixtape style album. The standalone single was released entitled "Sacrifice" and features the Canadian actor '''Louis Tripp''' from the cult-classic horror movies "'''The Gate'''" and "'''Gate II'''" as a producer and returning to acting for the music video to the single. Due to the '''COVID pandemic''', his albums were said to be delayed as he was stuck in quarantine while shooting the videos in another state. During this time he was able to film an Isolated performance for '''Astronomicon''' / '''Majik Ninja Entertainment'''<nowiki/>'s online festival "'''Netfest: On Your Couch!'''" and headlined the underground pre-show in May 2020. In November, KidCrusher announced on '''The Drain Podcast''' that a new album for [[KcaveMen]] was finished entitled "'''Evolution'''" and was released in May 2021.

 

In 2020, KidCrusher announced he is working on 3 new albums and a single, two of the albums being side projects along side a new KidCrusher mixtape style album. The standalone single was released entitled "Sacrifice" and features the Canadian actor '''Louis Tripp''' from the cult-classic horror movies "'''The Gate'''" and "'''Gate II'''" as a producer and returning to acting for the music video to the single. Due to the '''COVID pandemic''', his albums were said to be delayed as he was stuck in quarantine while shooting the videos in another state. During this time he was able to film an Isolated performance for '''Astronomicon''' / '''Majik Ninja Entertainment'''<nowiki/>'s online festival "'''Netfest: On Your Couch!'''" and headlined the underground pre-show in May 2020. In November, KidCrusher announced on '''The Drain Podcast''' that a new album for [[KcaveMen]] was finished entitled "'''Evolution'''" and was released in May 2021.

 
+
 

The next KidCrusher album is currently in production and due for a 2022 release, noted to be a mixtape style. He has released 14 studio albums to date independently.

 

The next KidCrusher album is currently in production and due for a 2022 release, noted to be a mixtape style. He has released 14 studio albums to date independently.

 
+
 
+

== Personal Life ==

 
+

KidCrusher is Australian/Irish, Born on the 28th of October 1986; raised and currently resides in Adelaide, South Australia. Decendant of the notorious bushranger (Joeseph Byrne) of the kelly gang, KC lost his father (at 6 months old) to a work related accident, growing up with two siblings and his mother in the Northern Suburbs. His first passion was working with movies and helped run the local Blockbuster Video store until its closure. He was the top of his classes in highschool for Music and Computing how ever he dropped out due to suffering mental illeness and focused the majority of his time in a Backyard Wrestling group he managed for 3 years until he took time off to focus on a studio career in music. He studied sound engineering and also worked as a radio and club dj for several years,

 
+
 

==Style & Influences==

 

==Style & Influences==

 

[[File:Kidcrusher-google.jpeg|left|thumb|220x220px]]

 

[[File:Kidcrusher-google.jpeg|left|thumb|220x220px]]
---
Revision as of 07:19, 1 December 2021
KidCrusher is an Australian rapper, actor, composer, guitarist and record producer from Adelaide, South Australia. Founded in 2005, KidCrusher performs a style of hardcore hip hop known as Horrorcore / which focuses primarily on dark and violent lyrics, with blend of hardcore rap and bloodthirsty metal.
He has nationally toured with Tech N9ne, ICP, Hopsin, Xzibit, Hed PE, Mushroomhead, Dirt Nasty, Boondox, Blaze Ya Dead Homie, The Berzerker and hosted the release party for Grand Theft Auto V in Adelaide for EB Games and headlined the underground preshow for Twiztid's Netfest: On Your Couch Online Festival and more. In addition, KC has collaborated with Insane Clown Posse's record label Psychopathic Records for their compilation album Tunnel Runners which debuted on the Billboard Rap Charts at #21.
He is also well known by his feature on the Television show Law & Order as the Axis Of Death, loosely based on the Farmville murders which sparked controversy worldwide towards the horrorcore community as the killer Richard Samuel McCroskey was a fan of KidCrusher in real life. His music and others in the genre, were a spotlight of blame towards the incident as a potential influence.
In addition to film, he composed Film score's for the Australian feature films From Parts Unknown: Fight Like a Girl and Sheborg Massacre directed by Daniel Armstrong and distributed by Monster Pictures.
He is also the lead vocalist and producer for the metal bands KcaveMen and Rectal Birth. He has released 14 studio albums to date, but is most notable for his Chronicles of KidCrusher collection.
History
KidCrusher began making rap music in 1996 with influences from Spice 1, Gravediggaz and most notable the Tales from the Hood (soundtrack) as a key to begin his horrorcore venture, recording on cassettes and self producing.
In 2003 he formed his first metal band "Rectal Birth" the group performed live but never released an album due to the lack of commitment from the other members, he was then a founding member of a rap supergroup Subterra which released two albums between 2004-2005. After the groups demise he decided to attempt a solo album influenced by Insane Clown Posse, his first single "A Dirty Fuckin Murder" was released online with a self made music video which gained over 300,000 views online YouTube and developed a cult following, this pushed him to record and release his first studio album "Tormented Mutation" in 2006 and focus on a solo career.
In 2007, KidCrusher built his own home studio and recorded his most controversial album to date "Cannibal Clown" which featured the single "Meet The Monstors" a music video for the single was produced by Melbourne based film studio Strongman Pictures inside Australia's most notorious Aradale Mental Hospital. The event lured Fangoria Magazine to the set which was reviewed the production and the video has since been a highlight reel for his work.
In 2008, KidCrusher was booked to perform at the Gathering of the Juggalos in the United States but was deported and banned upon arrival for a previous Conviction he had in the past, which has been causing issues attempting to return since.
In 2010, Todd Hansen of The Berzerker joined with KidCrusher on a metal project called "KcaveMen", they released a full length album entitled "Gondwanaland" and toured 6 dates around Australia with Headkase. KidCrusher then returned to his first band "Rectal Birth" for a self produced solo album called "The Nothing" released in 2012, focused on Industrial Metal.
In 2014 his album "Metal Murder 3D" was nominated and won "Metal album of the year" at Faygoluvers Heaven. The album featured a short film "Alice In Zombieland" which had a short run in theaters around Australia. In 2015, a 10 year anniversary music video was released in celebration of his first single "A Dirty Fuckin Murder" entitled "Back To The KidCrusher" in which he themed to his favorite movie Back to the Future and featured a DeLorean time machine he used to travel back in time to remix his original song heavier. He went on to compose the Musical score for two feature films by Strongman Pictures in 2016.
In 2018, KidCrusher released "Distorted Dimension" It features one of his most popular singles to date "In Your Nightmares" KC quoted it is the first completely original instrumental production since his 2007 album "Cannibal Clown" and felt it's an inspiration to that project.
In 2020, KidCrusher announced he is working on 3 new albums and a single, two of the albums being side projects along side a new KidCrusher mixtape style album. The standalone single was released entitled "Sacrifice" and features the Canadian actor Louis Tripp from the cult-classic horror movies "The Gate" and "Gate II" as a producer and returning to acting for the music video to the single. Due to the COVID pandemic, his albums were said to be delayed as he was stuck in quarantine while shooting the videos in another state. During this time he was able to film an Isolated performance for Astronomicon / Majik Ninja Entertainment's online festival "Netfest: On Your Couch!" and headlined the underground pre-show in May 2020. In November, KidCrusher announced on The Drain Podcast that a new album for KcaveMen was finished entitled "Evolution" and was released in May 2021.
The next KidCrusher album is currently in production and due for a 2022 release, noted to be a mixtape style. He has released 14 studio albums to date independently.
Personal Life
KidCrusher is Australian/Irish, Born on the 28th of October 1986; raised and currently resides in Adelaide, South Australia. Decendant of the notorious bushranger (Joeseph Byrne) of the kelly gang, KC lost his father (at 6 months old) to a work related accident, growing up with two siblings and his mother in the Northern Suburbs. His first passion was working with movies and helped run the local Blockbuster Video store until its closure. He was the top of his classes in highschool for Music and Computing how ever he dropped out due to suffering mental illeness and focused the majority of his time in a Backyard Wrestling group he managed for 3 years until he took time off to focus on a studio career in music. He studied sound engineering and also worked as a radio and club dj for several years,
Style & Influences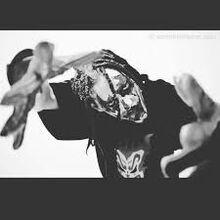 One of his biggest inspirations is music from Movie soundtracks, he tends to map his albums out like a movie score with the lyrics being the plot. He has stated in interviews he created the character with the intention to shock listeners with extreme lyrics based on inspiration from Serial killers, movies, depression and mental illness. Most notable Armin Meiwes the german cannibal, was the main theme for his album "Cannibal Clown", but not with the intention to promote or support this behavior, rather create a horror movie inside music. His albums are indexed as "Chapters" with similar intros documenting his body count and that he is still at large, similar to the Zodiac Killer in which has been referenced in many of his lyrics. He has spoken out about the extent of research he produced on these killers in order to create a more shocking tale to write about. All though he has been shamed in the media as Richard McCroskey who committed the Farmville Murders, was one of KidCrusher's biggest fans, KC has stated that he is sickened by these real life events and compares his work to actors who play fictional boogeyman like Freddy Krueger and Jason Voorhees.
Behind the vocals, he has always attempted to keep his dream of a band behind him but performs on stage with a DJ and instrumentals. Each album tends to be a mixtape of genres from; Death metal, Rap metal, Horrorcore, Industrial, Dubstep to regular Hardcore hip hop featuring a range of sketch skits, samples and humor. Some of his notable influences stem from: ICP, Slipknot, Korn, Linkin Park, Fear Factory, Limp Bizkit and Marilyn Manson.
Discography
With KcaveMen
As KidCrusher
With Rectal Birth
Fist Fuck (2003)
The Nothing (2012)
The Nasty (202?) In Production
With Subterra
Lonely Depressions Desire (2004)
Chronicles of the Reluctant (2005)
With Tunnel Runners
Masters Of The Wicked Shit (2008)
As Producer (full albums / not singles)
KcaveMen - KcaveMen (2005)
KcaveMen - Return for Snack (2006)
KidCrusher - Black Circle Magic (2007-2009)
KcaveMen - Gondwanaland (2010)
Rectal Birth - The Nothing (2012)
KidCrusher - Back To The KidCrusher (2015)
Sheborg Massacre - Soundtrack (2016-2020)
BatiBatt - Blood Rain (2020)
KcaveMen - Evolution (2020)
Chronicles of KidCrusher
The Chronicles of KidCrusher are Chapters to each studio release, like a story. In order of presentation/not release date.
Filmography
Year
Title
Role
Notes
2007
Death Death Documentary
Shawn Montague
Also Director & Producer
2009
Law & Order
The Axis Of Death
Episode: Steel-eyed death
2010
Death Walks The Streets
Trailer Theme Song
2011
The Mighty Misfits Documentary
KidCrusher
Also Music
2014
Murderdrome
Trailer Theme Song
2014
Alice In Zombieland
KidCrusher
Also Music Producer
2015
From Parts Unknown: Fight like a Girl
Radio Host
Cinematic Score, Sound Effects, Voice Cameo
2015
Back To The KidCrusher (Documentary)
KidCrusher
2016
The Drain
KidCrusher
8 Episodes, also producer
2016
Sheborg Massacre
Traal
Cameo, Score and FX
2017
Tarnation
Satan rap song + voice over
2019
SA Made Music
Music Videos
2020
Netfest: On Your Couch!
KidCrusher
Live Performance
2020
Sacrifice
KidCrusher
Actor, Co-Director, Co-Producer, Music & Score
2020
The Drain
KidCrusher
Also Producer
2021
Nova Star
Space punk rock star song

End Credits theme song

Theatrical Score

2021
KidCrusher Live: Virtual Victim Experience
KidCrusher
Also producer
External Links