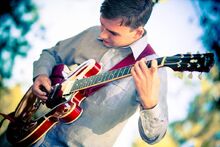 Kyle James Opie
(born July 30, 1993) is a musician from Adelaide, South Australia.
Biography
Edit
Kyle Opie is the leader of the jazz-rock group The Cortex Shift and is also a member of Team Friends Unite! and Something To Rescue.
Opie was a member of the review panel for MusicSA from April 2013 until October 2015 when they ceased the review process. In February 2016 he began to write reviews for BSide magazine. He was also awarded a Bachelor of Music from the Elder Conservatorium with a major in musicology in 2017.
Kyle was previously in such bands as Misfits of Sythia, The Here Away and Max Madman & The Heck Yeahs.
Discography
Edit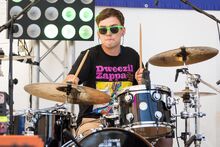 With Misfits of Sythia
With The Cortex Shift
With The Here Away
With Max Madman & The Heck Yeahs
Videography
Edit
With Max Madman & The Heck Yeahs
Scribbles and Food Stains - (2015)
With Something To Rescue
Once in a Lifetime - (2019)
With The Cortex Shift
Moose Sluicing Is Not The Answer - (2019)