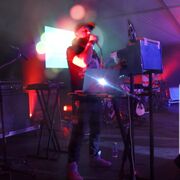 Lastly (born Liam Hausler) is a solo artist, singer/MC, Poet and Multi-instrumentalist based in Adelaide Australia (1997- Present). He is also the Lead Singer/Synth Player for Adelaide alternative four piece The Activation. Lastly draws inspiration from a variety of genres including Folk, Electronic, Hip Hop, World Music and Spoken Word. 
Early Years 
[
]
Lastly played in various bands over the years including Vendetta , Kudos and Fear of Phobias as well as being a regular guest vocalist with the Beat Smugglers. 
During his years playing in bands Lastly would write songs in his spare time, often these songs would not fit with the sound of the bands he was playing in so he started to build up a catalogue of solo songs which would later form the foundation to his Lastly releases.
2018-Present
[
]
In 2017 Local producer Tim Whitt won the Jon Lemon Artist in Residence grant and recorded his 2017 album Geisel at Saint Pauls Creative.
During a conversation at the Rhino Room closing party at the Frome Street Location, Tim invited Lastly in to studio the following Tuesday night. After hearing a couple of his songs Tim gave him 3 songs to take away and Lastly came back in and recorded the vocals to Step Outside and Helpless Careless the following week. 
Tim Whitt released his album late 2017 at which point Lastly engaged him as a producer and they started work on a Lastly album tracking instruments in Tim's home studio.
Discography
[
]
As a leader
Strength Through Breath - (2019) 
Everlight (feat. Cal Jamma & Tim Whitt) - (2019) 
Hold You Again (feat. Solar Soma & Tim Whitt) - (2020) 
Before The Dawn - (2020) 
With Tim Whitt