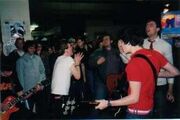 Love Like... Electrocution were a screamo / skramz band from Adelaide, South Australia. Much like the Young Street Church, Love Like... Electrocution are a point of origin in the ever expanding web of bands that have formed and come and gone out of that time and place. Members of Love Like... Electrocution went on to form and play in an array of other Adelaide, Australian and some international bands including The Burning Sea, Robotosaurus, SWORDS, Club Lock, This City Dynamite!!!, St. Albans Kids, Brutal Snake, Animal traps, My Sister The Cop, MULE, SPRIRITS and Heirs.
Members
[
]
Final lineup
[
]
Tom McFarlane - Vocals
Garth Travis - Guitar
David Healey - Bass
Brent Stegeman - Guitar
Damian Coward - Drums
Previous Members
[
]
Biography
[
]
Love Like… Electrocution began in January 2002 with founding members Garth (guitar) and Dave (guitar). After three months of lazy bedroom song writing, Jarrod Brown (drums) was recruited, but lasted only a handful of practices before it was decided that it wasn't meant to be and invited Slackjaw's drummer Rowan Tedge to join the ranks. Tom, who expressed interest in vocals, was in Russia and was scheduled to return within days and Brett (vocals) was kicking around town awaiting action.
They finally came together about two weeks before their first scheduled appearance in April 2002, a party held in Garth's lounge room in Sommerton Park, Adelaide. Jordan (bass) was leaving to persue a Teaching career in Japan the day after the party so they decided, for the benefit of their future, to replace him with new found friend Timmy Sullivan
Garth, Dave, Brett, Tom, Rowan and Timmy practiced for a week before the first show and apart from going through four guitars, a microphone and a light fitting, it went great. They had another gig a few weeks later, then decided to record their first EP, "She was Red Hot". They travelled to Melbourne for a weekend in early August 2002, returned and played around Adelaide for a few months before Tom (vocals) decided to leave the band and concentrate on his other band, St Alban's Kids, situated in Melbourne.
The band toured the Eastern states in late December 2002 and returned to learn that Tim was leaving the band to live in London. They decided to put the band on hold and look to replace Tim. Three months later they found guitarist Sebastian Callabretto and moved Dave to Bass. Tom found Melbourne wasn't for him and moved back to Adelaide and returned on vocals. They played their first gig back in April 2003.
The release of their second record was in late May 2003 which collected five new tracks and the "She Was Red Hot" EP. The EP had sold out and was in demand so they decided to re-release it with new tracks as a full length. They toured Australia a couple of times and made frequent visits to Melbourne. There was also a New Zealand tour scheduled for mid Jan 2004 but sadly, it was cancelled due to the departure of Rowan and new guitarist Seb.
Bringing Damian Coward (drums) and Brent Stegeman (guitar/vocals) on board, they toured extensively throughout Australia with the likes of The Dillinger Escape Plan, The Bronx and Death From Above, and released a split EP with This Night Creeps to coincide with their New Zealand tour, before finally disbanding towards the end of 2005.
Discography
[
]
She Was Red Hot - (2002)
Love Like... Electrocution - (2003)
Love Like...Electrocution // This Night Creeps Split - (2004)
International Supports
[
]
The Dillinger Escape Plan (USA)
The Bronx (USA)
Death From Above (USA)