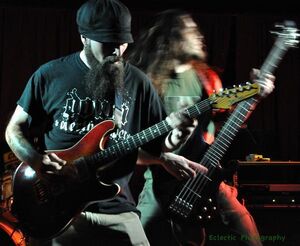 Mammoth are a metal/southern rock band from Adelaide, formed in 2006 by guitarist Josh Barohn (previously the bass player from New York death-metal band Suffocation) and local drummer Adam Groth.
The band worked extensively around Adelaide in 2007, playing many shows and producing two demos. Soon after saw line up changes in the band and in 2008 Mammoth had secured three new members in vocalist Pahl Hodgson (Beyond Mortal Dreams/Darklord), guitarist Chris George (63 Stone) and bassist Jason Moon (Double Dragon), shortly after recruiting Doug Clark (Blood Mason) to fill in on the bass duties.
One of the band's highlights was opening for veteran metallers Obituary on the Adelaide leg of their Darkest Days Australian tour. In 2010 they released a debut album.
After a lengthy hiatus, a new incarnation of Mammoth debuted in August 2014, with Barohn the sole remaining orignal member.
Current members
Josh Barohn - guitar
Michael Turner - drums
Mark Page - guitar
Josh Schultz - guitar
Pat Callaghan - bass
Dave Fagan - vocals
Previous members
Adam Groth - drums
Chris George - guitar
Doug Clark - bass
Matt Shepherd - vocals
Pahl Hodgson - vocals
Jason Moon - bass
Tim Dodd - bass
Larry Ash - guitar
Community content is available under
CC-BY-SA
unless otherwise noted.