Metal Murder 3D is a studio album by KidCrusher, released March 31, 2014.
Also known as "MM3D2" which was made as "Disc 2" of Metal Murder 3D, however online it is presented as the "abridged" or "edited" version, minus the unauthorised instrumentals, which were later lifted.
It is the third and final instalment in the "Metal Murder Mixtape" series, which features different genres of music mixed with metal and horrorcore including; Industrial, Dubstep and more.
It is indexed as the 9th chapter in the Chronicles of KidCrusher. Recorded in Adelaide, South Australia.
Track Listing
Edit
Disc 1:
Chapter 9: 3D
Directors Cut (Alice In Zombieland)
Covered In Blood (I'm A Vampire)
Murder Me In 3D (The Killer Never Dies)
The Never End Of Me And My Enemy
Stuck In Solitude (Emptysight Remix)
Heartbeat (Fruity Remix)
Human Salad (feat. Bukshot / Scum / Denace)
The Evilution Remix (Feat. Q Strange)
Bloodsteps (Feat. Jahred Gomes)
The Hate Anthem (Myself Mutilation)
Bodyrott (Positive and Negative)
Brain Taco (Feat. BubZombie)
My Big Fat Dick (Say What?)
Sex Toy (Industrial Kink Mix)
All About You (Berzerker Cover)
Manic Depresso (Sykotik Cover)
Heartless Zombie (No Emotion)
Disc 2: MM3D2
Stuck In My Mind
Get The Fuck Up Outta My Face
Fuck Me (Unreleased Breakup Mix)
Fuck This Fuckin Remix (Feat. Chico)
House Of Pain (Feat. T.O.N.E-z & ill e. gal)
KcaveMen – Coconuts (Demo)
KcaveMen – Frozen (Demo)
Rectal Birth – Ass To Mouth
Rectal Birth – Penetration (Remix)
Horror Everywhere! (Feat. Korax)
Outsider Artist (Grindhouse Remix)
Who Do You Voodoo (Cover)
Killin Shit (Part II: Aphex Predator)
The 10th Chapter (Teaser Trailer)
Fuck You Forever
The Reason (Alzymerz Cover)
The Diary (Hollywood Undead Cover)
The Pressure It Feeds (Mark Schwaber Cover)
This is the third and final instalment in the "Metal Murder Mixtape" series and indexed as the 9th Chapter in the Chronicles of KidCrusher. The first was released in 2008, followed by the second in 2010, the third came as a 3 disc special edition with a dvd included in 2014. KC has noted that his was his most painful album to ever record, with the amount of personal drama and stress surrounding the expectations for the release, it was in production for well over two years and originally featured over 60 instrumentals. It was also pitched to be a musical in early stages of production, however the majority of collaborations fell through and a short film was produced for Alice in Zombieland instead. Some of the original rumoured collaborations included; Boondox, Onision, Lo Key and Kung Fu Vampire.
The short film Alice in Zombieland was screened in cinemas around Australia prior to the album release
The album won "2015 album of the year" on Faygoluvers Heaven.
A different version of Heartbeat was also released as a single for a Tour CD, however it was flagged for copyrights as it sampled the movie soundtrack "28 days later". A remixed version was made for the album version. This is the first album KidCrusher broke character for more than a track, focused more on songs about breakups, depression and suicide.
The track "Sex Toy" was written as a promotion for the website "Kink" that hosts websites for "Hogtied" and "Fucking Machines" to name a few, the company approved of the single and ran promotions with kidcrusher's website for a limited time during the release.
A teaser track for the next album was included and sampled "Black Circle Magic" a previous release, KC noted he planned on doing a follow up to that series, but however the idea was replaced with Distorted Dimension.
Heavily Medicated Single
Edit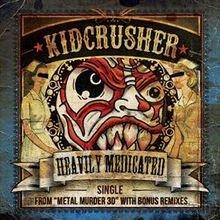 A single was released prior to the album release entitled "Heavily Medicated" with a music video, however the producer of the instrumental only granted limited rights to the release, which prohibited sales from the single. Heavily Medicated was originally "Track 5" and the skit "The Never End Of Me And My Enemy" replaced the single as a last minute intermission to fill the gap. The single also had 3 remixes, a CD version is still available FREE through Victim Gear when you purchase Metal Murder 3D.
Future sequel
Edit
Due to popular demand, KidCrusher has always been asked about a 4th instalment in the Metal Muder series. He said at this point in time its painful to think about, but is open to the idea, but doesn't have any plans for it at the moment.
Community content is available under
CC-BY-SA
unless otherwise noted.