Metal Murder Mixtape (Vol.2) is a studio album by KidCrusher, released on August 20, 2010.
It is the second out of a 3 part series, including: Metal Murder Mixtape and Metal Murder 3D. This album was labeled by Fangoria Magazine as "SCARY AS HELL"!
It is indexed as the 6th Chapter in the Chronicles of KidCrusher. Recorded in Adelaide, South Australia.
Track Listing
Edit
Chapter 6: Teeth
Date Rape (Feat. Trips)
Blood Drunk (Feat. Dyad Souls)
Murder (Feat. ShyOne/F Dux)
Amusement (Feat. NutKaze)
The Juggalo Within Me
Overflow (Feat. Kung Fu Vampire)
Let The Blood Boil (Intermission)
Light The Night (Devil's Night)
Sperm (Kiss My Arse)
Crybaby (My X Girl Fiend)
Down The Drain
Without You
Suck On My Flow
Zydrate Anatomy (Cover)
Overdose (Suicide Note)
Anxiety (Metal Murder Remix)
My Dark City (Feat. Chico)
Kick The P.A (Korn Cover)
Psychosocial (Slipknot Cover)
Spare Parts (DJ Nameless Remix)
This album was the dawn of the fictional DJ created for KidCrusher's live performances, based on Day of the Dead's Bub Zombie. The concept art was created by Bowski Graphics. The character of bub lived on throughout the Metal Murder series and was removed soon after.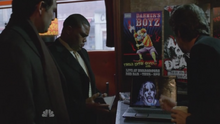 The album features skits and samples from the movie Bitten and documentary cuts about Andrei Chikatilo. The song "Without You" was inspired by a true story, in which an old man wouldn't leave his dead wife. Tracks "Murder" and "The Juggalo Within Me" were subliminal disses towards Law & Order for the way KidCrusher was portrayed in the Juggalo episode Steel-eyed Death. Many tracks were inspired by the movie "Repo The Genetic Opera" including a cover of "Zydrate Anatomy" Sperm is a cover from a fictional band "Kiss My Arse" used in the movie "Dead Man On Campus". The track "Date Rape" was originally meant to feature "Q Strange" but didn't make the deadline but went on to record for Metal Murder 3D instead. The track "Blood Drunk" was also meant to feature "Project Born" but was replaced with Dyad Souls. The album was also in talks to be produced by Mike E. Clark, before he made his own mixtape influenced by the same idea.
This album was written and recorded simultaneously with KcaveMen Gondwanaland and The Grinch. Making it KidCrusher's biggest year releasing 3 albums in one year.
Community content is available under
CC-BY-SA
unless otherwise noted.