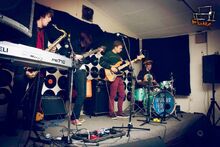 Misfits of Sythia was a five piece Adelaide Hills band led by guitarist Sam Morris. Their original compositions combined many genres including Progressive Rock, Gypsy Jazz, Metal, Jazz Fusion and Funk.
Misfits of Sythia formed mid-2012 with an aim to compose music that combined elements of Progressive Rock and Metal with Jazz and Folk music. The ensemble began as a sextet with each of the members meeting at the Heathfield High School Music program.
In March and April 2013 the band had their first few public performances, during this time they performed at the Imaginate Festival's Battle of the Bands at which they received the People's Choice award. In the latter part of that year, several members left and the group became a quartet with Kyle Opie (The Cortex Shift) on bass.
In 2014 they released their début EP and performed at events such as The Lounge and ProgFest. During this time they performed alongside other progressive acts such as Glass Indian, Dyssidia and Satan's Cheerleaders. Glen Fernandes then joined in early 2015 on electric violin and vocals.
Misfits of Sythia released their first full length album in 2018. The tracks 'Falafel Induced Hiccups' and 'Hip Hoppin' Horns & Djip Djoppin' Djent' were released as singles in anticipation of the release of the entire album. The group disbanded shortly after the album release, but several members have gone on to perform in such groups as Bird Detective and The Cortex Shift.
Sam Morris - guitar
Patrick Reed - tenor saxophone, keyboards, guitar
Glen Fernandes - violin, vocals
Kyle Opie - bass
Stuart Mann - drums
Singles and EPs
Automatonophilia - (2014)
Falafel Induced Hiccups - (2016)
Hip Hopping Horns and Djip Djopping Djent - (2017)
Albums
Community content is available under
CC-BY-SA
unless otherwise noted.