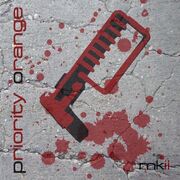 Mk II
(pronounced "mark two") is the second
Priority Orange
EP and was released in April 2011. Unlike the
first album
, Mk II features performances by all members of the band as well as several guest musicians. Additionally, the three studio songs are more complex in structure and the writing has been heralded as "a step forward".
Track listing
Edit
"He's In The Pub" – 4:45
"The Diode" – 4:22
"Cammy" – 4:38
"Not Naming Names" (Live on Radio Adelaide) – 3:38
Bonus content (CD version)
Edit
4.1 surround-sound mixes of "He's In The Pub", "The Diode" and "Cammy" in Surround MP3 form.
Live videos of "Anyway", "More" and "Left To My Own".
Personnel
Edit
MusicSA review
Edit
Reviewed by: Tobias Handke, published on the MusicSA website on 18 November 2011.
"Mk II is a solid four track EP of heavy rock with an Australian flavour; think Karnivool meets Alice In Chains with a dash of Faith No More and '80s rock. The heavy turned prog-rock opener 'He's In The Pub' has '90s written all over it, especially with the double kick and grinding guitars, but a mini '80s guitar solo mid-song brings out the progressive element of their sound. This is followed by the Black Sabbath echoing 'The Diode' and the head banging 'Cammy'. Final track 'Not Naming Names' is a little darker than the rest of the EP, featuring a menacing bass line and more wild guitar solos."
External links
Edit