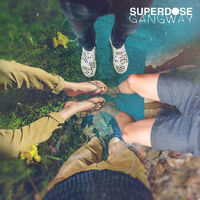 Monsoon Season is a ten track album by Superdose Gangway, it was released on January 3, 2017. The band chose their favourite tracks from their project Twenty-Six Songs in Twenty-Sixteen and recreated them with higher production values for this "mix-tape" album.
Track Listing
Edit
"Everything's Coming Up Sidedown" - 3:39
"Until One of Us Dies (Raccoon & Armadillo Pt. 1)" - 3:49
"Void of All Reason (Raccoon & Armadillo Pt. 2)" - 3:11
"Kitten Kong" - 3:50
"Quixote" - 3:31
"Loss of Autumn, Joy of Spring" - 4:15
"People Person" - 3:28
"Romance O​.​N​.​O." - 3:27
"His Bed is a Conveyor Belt, Mine is a Race Car" - 3:07
"Now You've Grown out of Me, I Hope I'm Not a Bad Memory" - 3:33
Personnel
Edit
Superdose Gangway
Max Tulysewski - vocals, tenor guitar, keyboards 
Liam Gare - vocals, guitar 
Ned Heggart - bass 
Craig Burns - drums
Production
Max Tulysewski - engineer, mixing, mastering
Liam Gare - engineer
Matt Lang - engineer
Lachie Ambler - engineer
Django Lehmann - engineer 
Community content is available under
CC-BY-SA
unless otherwise noted.