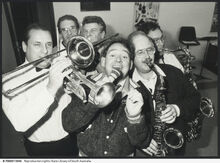 The Our Thing Big Band was formed in 1971 by seventeen dedicated musicians who enjoyed getting together to have a good 'blow' and gain experience. Led by Denis Sheridan and Gary Haines, it attracted the interest of the people at 5AA and was also known as the 5AA Our Thing Big Band. In 1974 Gary Haines moved interstate.
Denis Sheridan - vocals
Anna Allwood - vocals
Maurie Le Doeuff - saxophone
Brenton Hay - saxophone
John Kelley - saxophone
'Wog' Fechner - saxophone
Dave Miller - saxophone
Bob Johnson - trombone
Gordon Coulson - trombone
Eric Tann - trombone
Cec Hutton - trombone
Kev Davis - trombone
Doug Drysdale - trumpet
Jack Pope - trumpet
Ross Smith - trumpet
Danny Madden - trumpet
Terry Marter - trumpet
Darryl Pope - trumpet
Geoff Whitman - trumpet
John Bermingham - bass
Brian Crosby - bass
Bruce Nolan - piano
Larry Golder - guitar
Dave Colton - guitar
Des Clark - percussion
Gary Haines - drums
Trevor Gregory - drums
Lorraine Bermingham - manager
Our Thing Big Band: with Denis Sheridan and Anna Allwood - (1978, EMS Records)
Community content is available under
CC-BY-SA
unless otherwise noted.