Jurassic World: Dominion Dominates Fandom Wikis - The Loop
Play Sound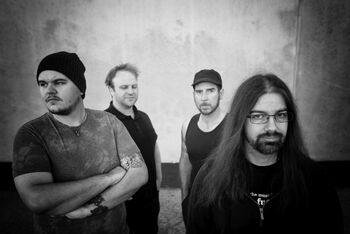 Priority Orange is a heavy alternative rock band from Adelaide, South Australia. Despite first appearing in 2005, the band wasn't fully active until late-2009 when the debut EP was released and have played gigs regularly since.
History
[
]
2005-2006
[
]
The band initially formed with Larry Ash, Shaun Hurrell and Mino Kolega in January 2005, and this lineup performed one show in July of that year. After this, Kolega was replaced with Tim Dodd, and the band played again in October. Shortly after this, Priority Orange went into hiatus. Ash and Dodd temporarily reunited in December 2006 to play one more gig with Max Duncan on drums, performing as "Priority Orange Mark Three".
2008-2011
[
]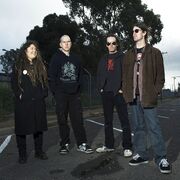 After parting ways with Mammoth, Ash began recording the songs written for Priority Orange as a solo project. Part way through the process he reunited with Hurrell on the basis of reforming the band. Dodd turned down the offer to re-join on bass, so Duncan was asked. To fill out the sound, Lisa Lane-Collins (formerly of Monkey Box) was brought in as rhythm guitarist. The band started rehearsing in late 2008 while the first EP was still being worked on, and began performing live after its completion in September 2009. Kolega was often invited on stage to join in on vocals at several shows. In August 2010 the second EP Mk II was recorded and then released in April 2011. In September 2011 they performed unplugged (which can be heard on Livejunk 2011).
2012-2013
[
]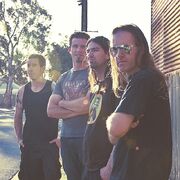 The band played outside of Adelaide for the first time in May 2012, in the town of Loxton, SA. That October they performed at the Adelaide Zombie Walk after-party at Fowlers Live. In November 2012, Dave Swann replaced Lisa Lane-Collins as second guitarist.
2014-present
[
]
In August 2014, recordings for the third EP began, after an extensive pre-production period. During this time, creative differences resulted in Matthew R. Davis taking over as bass player throughout 2015, including studio sessions and an interstate tour to Victoria that October. By December, Davis had left and Danny Riot (ex-Spatchcocks, Ramjets) filled the role. During 2017, Swann quit and Tim Koster (Across The Maelstrom) joined in his place. After a long hiatus due in-part to the pandemic, they performed for the first time in three years at a benefit concert for the Enigma Bar in November 2021. The long-awaited Sol EP is released in 2022.
Members
[
]
Timeline
[
]
Discography
[
]
Influences
[
]
The initial concept for the band was to combine the sound of Helmet and Black Label Society (with Alice In Chains "somehow sneaking their way in"), though by 2006 Ash was becoming influenced by industrial rock (Nine Inch Nails, Ministry), progressive rock (Pink Floyd, Rush) and extreme metal (Strapping Young Lad, Meshuggah) and sought to include elements of these bands on the songs that would later appear on the second and third EPs. While the live band was originally to be at-times improvisational on stage (similar to Led Zeppelin), this idea was discarded in favour of tighter performances. The use of B-tuning was influenced by Crowbar.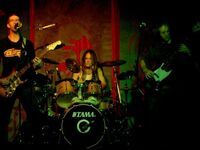 They also occasionally play heavily-modified cover songs including:
"Friends" - Led Zeppelin
"Set The Controls For The Heart Of The Sun" - Pink Floyd
"I Don't Wanna Be Me" - Type O Negative
"Hyperdrive" - Devin Townsend
"Angry Chair" - Alice In Chains
"Milquetoast" - Helmet
"Only Good For Conversation" - Rodriguez
"Kicks" - Sahara Hotnights
External links
[
]