Jurassic World: Dominion Dominates Fandom Wikis - The Loop
Play Sound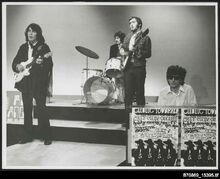 Red Angel Panic was a rock band from Adelaide.
Biography
[
]
Red Angel Panic grew out of pop band Tattered Sole in 1968 to provide music for the Doug Anders production of Rites Underground, an avant garde dance-drama at Theatre 62. The lineup was Rob Tillett (lead guitar, vocals), Chris Bailey (bass guitar, vocals), John Freeman (drums, vocals), Ken Skinner (keyboards) and Robert "Jakes" Jacobs (guitar). At the end of 1968 Ken Skinner and Robert "Jakes" Jacobs left the band, which played as a trio for most of 1969. At the end of 1969 Doug Anders directed another show in Adelaide at Union Hall, Viet Rock. RAP also provided the music for this production, with Ken Skinner on keyboards. Rob Tillett had a serious motorcycle accident in early 1970 and while he was in hospital, John Freeman left to join Levi Smith Clefs (later Fraternity, Mickey Finn) and Ken Skinner also went his own way. When Rob Tillett recovered, the band reformed with Chris Bailey on bass, Moses Carmen on keyboards and Roland Crichton on drums. Roland was replaced by Peter MacCormack and the band became more seriously political, the focal point of the so-called "psychedelic left" in Adelaide.
The Panic's first single Viet Rock b/w Private Investigator, reached #10 locally in 1971. In 1971 Chris Bailey left to form Headband (later The Angels, Gang Gajang) and Peter MacCormack left to join Country Radio. RAP reformed with Ron Anderson on bass and Lee Cass (ex Lipp Arthur) on drums. Lee Cass was subsequently replaced by Peter MacCormack. After disbanding in 1972, due to a serious injury to Rob Tillett, founder, singer, lead guitarist and songwriter, the band reformed in 1976 with Mick Jurd (lead guitar, ex Levi Smith Clefs, Fraternity), John Freeman (drums), Chris Bailey (bass), Rob Tillett (guitar). Freeman was replaced by Buzz Bidstrup (drums) who was himself replaced in 1976 when he joined The Angels by J.J Hackett (drums) later of Stars. Russ Johnson and Graham Davidge both of Country Radio also played guitar in the band. RAP subsequently recorded a number of so far unreleased tracks at Max Pepper's Peppersound Studios in North Adelaide, and in a later incarnation at Clive Shakespeare's studios in Sydney (Rob Tillett, Chris Bailey, Clive Shakespeare and Buzz Bidstrup). Some of these tracks have been remastered recently and placed on SoundCloud.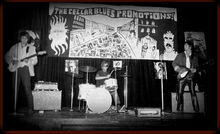 Red Angel Panic also performed as Mervyn and the Hubcaps (1970), Leper Colony (1970-71), Rocky and the Rockin Red Angels (1971), and Dangerball (1977). Later incarnations led by Rob Tillett and featuring some of the members listed include Gotham City (1980-82) and The Meerkats (1992-95). Both of these bands released albums (Gotham City: RadioActive and The Meerkats: Western Dreaming), which unfortunately made little impact on the world.
In 2012 former Panic members flew in to play in a 40 year reunion at the Gaslight. Musicians featured were Rob Tillett (guitar, vox, Bowral), Moses Carmen (keyboards, Ireland), Graham Davidge (guitar, vox, Melbourne), Ron Anderson (bass guitar, Adelaide), Peter MacCormack (drums, Japan) and Sylvan Elhay (saxophone, Adelaide). Roland Crichton (drummer in the 1970 Channel 9 pic shown at the top of this page) was in the crowd at one of the shows and performed on drums for some numbers at the end.
Members
[
]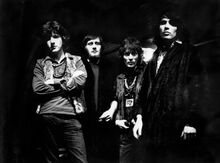 Rob Tillett - vocals, guitar, blues harp
Chris Bailey - bass guitar, vocals
John Freeman - drums, vocals
Ken Skinner - keyboards
Robert "Jakes" Jacobs - guitar
Moses Carmen - keyboards
Roland Crichton - drums
Peter MacCormack - drums
Lee Cass - drums
Ron Anderson - bass guitar
Mick Jurd -  guitar
Russ Johnson - guitar
Graham Davidge - guitar, flute
J.J. Hackett - drums, guitar
Graham "Buzz" Bidstrup - drums
Clive Shakespeare - guitar
Sylvan Elhai - saxophone
Guy Cundell - guitar, vocals
Ron Saunders - bass guitar
Martin Fabinyi - vocals, percussion
Rod Bain - saxophone
Veneta MacCormack - vocals
Diana Kearns - vocals
Sheri Hunt - vocals