Jurassic World: Dominion Dominates Fandom Wikis - The Loop
Play Sound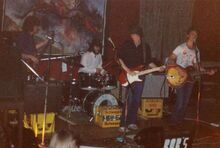 Rough Mix was a rock band from Adelaide.
Biography
[
]
Rough Mix formed in 1979 as The Rooted Coons, with Bruce Dick, Phil Catley and Peter Burke jamming in a North Adelaide cellar. Burke left after about 6 months and was replaced by Nigel Grummet on vocals and Dean Edwards (Spell Why, Big Things Flying) on drums, with a new name of Underground. The lineup never quite gelled, so Dick and Catley moved on, recruiting Barrie Paraskeva (ex Celestial Brainchild and Whispering Steel) on bass and Marcus Trimboli (from Black Milk) on drums. Ensconced in rehearsal rooms at an OG Road earthmoving firm, the band became Rough Mix, named after the Townsend/Lane album.
From 1982 until 1986 the band played parties, Universities, CAE's, The Tivoli, Austral, Exeter, Peter Jacksons, and most of the other local inner city venues. They spent most of 1983 with a residency at The Saloon in North Adelaide, playing alongside the King Bees, Kaos, The Jump, and establishing a friendship with The Primitive Painters, with whom they often double billed. The residency led to complacency, and the band didn't progress. Dick and Catley resigned from the residency to focus on rehearsing, and two weeks later The Saloon burnt down. Rough Mix continued playing around town until 1986 and were often joined by Imogen Lidgett (July 14, Every Brothers) on keyboards. They played their farewell gig in November 1986 at the Marryattville as support act for the Distorted Tarts.
The band played a mix of originals and Stones, Who, Beatles and The Jam. Bruce Dick changed his name to Bruce Harley and went on to play in The Coneheads, The Lovegods, Godbox, and Lono. He passed away in 2002. Phil Catley adopted the stage name Philby Ramone and joined Distorted Tarts, Lono, Sensational Dialtones, Two Minute Warning, Am I Ever, The Rocking Stones, Satisfaction The Stones Show, Dirty Pierre and Los Mescalitos. Paraskeva and Trimboli also joined the Distorted Tarts, with Paraskeva also joining Lono, Dialtones, Dirty Pierre and Los Mescalitos.
Los Mescalitos continues to play and record, tracing its roots back to 1979.
Members
[
]
Bruce Dick (Bruce Harley) - Vocals, Guitar
Phil Catley (Philby Ramone) - Vocals, Guitar
Barrie Paraskeva - Bass
Marcus Trimboli - Drums
Immy Lidgett - Keyboard