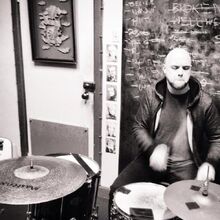 Ryan Simm (born May 22, 1985) is an Australian drummer, percussionist and composer from Adelaide, SA.
Ryan Simm has performed with many different groups in the Adelaide scene including Appomattox Run, Molloy, Murdergrin, Nuvo, The El Caminos, Lather, Only The Sky, Those Magnificent Screaming Bastards, The Ceiling Effect, Quiet Child, Slingshot Dragster, Lady Voodoo & The Rituals, Zoe Behan & Huxley and Remedy.
In addition, Ryan has appeared on stage with artists such as Sarah Brightman, Eric Marienthal, Nebojsa Zivkovic, UNLV Wind Symphony, Adelaide Symphony Orchestra, Raiders Drum Corps and the Soundstream Collective.
In 2011 Ryan formed Molloy, a 6 piece instrumental post-rock group that showcases many of his original compositions. The band's debut album, Malone Dies, was released in December of 2015.
Ryan studied percussion performance at the Elder Conservatorium under professor James Bailey and completed his Masters in Music Performance at the University of Nevada, Las Vegas in 2010.
With Remedy
From the Inside Out - (2003)
With Concerto for Marienthal
UNLV Wind Orchestra - (2010)
With Molloy
EP - (2012)
Gaber - (2013)
Malone Dies - (2015)
With The El Caminos
With Only The Sky
With Appomattox Run
With Those Magnificent Screaming Bastards
Modern Horse Husbandry For Bastards, Volume 1 - (2016)
Community content is available under
CC-BY-SA
unless otherwise noted.