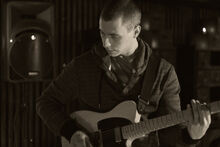 Sam Cagney is a Jazz guitarist from Adelaide.
Biography
Born in Whyalla, Sam moved to Adelaide in 2006 to commence Jazz Guitar studies at the Elder Conservatorium. During his time there he was fortunate enough to perform with Ray Vega (USA), Jon Gordon (USA) and was a member of the Downbeat award winning Big Band One. He graduated from the Conservatorium in 2009 with first class honours. In 2011, with assistance from the Helpmann Academy, he travelled to New York to undertake private study with Kenny Werner, Paul Bollenback, Adam Rogers and John Abercrombie.
Sam is heavily involved in many projects around Adelaide including his role as an artistic director at COMA and acting as the guitarist of Yeahyeahabsolutelynoway!, The Cast, Sam Cagney's 81 Ludlow, Crump Cake Orchestra and more.
In 2014 Sam was commissioned by JazzSA to arrange the music of The Whitlams and as a result he collaborated with members of Zephyr Quartet to form the unconventional string quartet Little Cloud which has since become a vehicle to perform his original compositions.