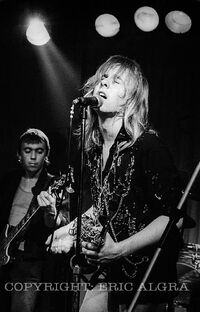 The Screaming Believers formed in Adelaide in 1981. 
Their first album with Greasy Pop Records was Communist mutants from space which lead to a distribution deal with Big Time Records. This resulted in 50,000 copies being pressed for sale in the USA. Their second Greasy Pop album, Refugees from the Love Generation in 1987 gained the band European attention and a recording contract was offered in 1989 by Megadisc for 3 albums.
Ken Sykes - guitar, vocals
Graeme Burdett - guitar (1982-1985)
John Cavuoto - guitar (1985-?)
Rees Hughes - bass (1982-1985)
Cloudy Katern - bass (1985-1987)
Craig Rodda - drums
Paul Hughes - vocals, saxophone
Jodie Peterson - bass (1988-1991)
Singles
My eyes - (GPR 1984)
I want to have you - (GPR 1984)
Sandra - (GPR 1987)
Extended Plays
Show me your money - (Empty Dogma Records 1981) recorded live at the Union Hotel.
Albums
Communist mutants from space - (GPR 1985)
Refugees from another love generation - (GPR 1987)
Compilations
I guess I'm going - The Flexi Pop Show at the Burnside Ballroom - (GPR 1982)
Unprofessional -  A Greasy collection - (GPR 1985)
The man heaven defended -  Songs from the back room - (Round Records 2000)
Community content is available under
CC-BY-SA
unless otherwise noted.