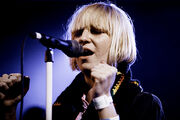 Sia Kate Isobelle Furler (born 18 December 1975), better known simply as Sia, is an Australian downtempo, pop, and jazz singer and songwriter. In 2000, her single "Taken for Granted" was a top 10 hit in the United Kingdom. Her 2008 album Some People Have Real Problems peaked in the low 50s on the Billboard 200. At the ARIA Music Awards of 2009, she won the award for Best Music DVD and received six nominations at the ARIA Music Awards of 2010 and won Best Independent Release and Best Pop Release for We Are Born and Best Video for the song "Clap Your Hands".
As a writer, Furler has collaborated with many artists including Christina Aguilera, Eminem, David Guetta, Flo Rida, Afrojack, Jennifer Lopez, Shakira, Lea Michele, Rihanna, Beyoncé, Kylie Minogue, Leona Lewis, Hilltop Hoods, Katy Perry, Kesha, Rita Ora, Britney Spears, Jessie J, Oh Land, Angel Haze, Celine Dion, and Maroon 5. She co-wrote and featured on Billboard Hot 100 top ten hits "Titanium" with David Guetta—with whom she also produced the single "She Wolf (Falling to Pieces)"—and "Wild Ones" with rapper Flo Rida. All three songs achieved international success.
In 2014, her single "Chandelier" became an international success, also reaching number 8 on the Billboard Hot 100 charts. This is the highest ranked solo song by Sia. In January 2016 she released her seventh studio album This Is Acting.
1975–1995: Early life and career beginnings
Edit
Furler was born in Adelaide, South Australia on 18 December 1975. She attended North Adelaide Primary School and Adelaide High School, graduating in 1994. Her father, Phil B. Colson, was a musician in various bands including Foreday Riders, Rum Jungle, Fat Time, Jump Back Jack, and Mount Lofty Rangers. Her mother, Loene Furler, is a singer, songwriter, musician, and art lecturer who also provided backing vocals for Mount Lofty Rangers. Her parents were both in an Adelaide rockabilly band, The Soda Jerx. Furler is the niece of UK-based actor/singer Kevin Colson. Singer/songwriter Colin Hay of Men at Work, though not related, is affectionately known as "Uncle Colin". "Philby" Colson played slide guitar on Men at Work's last single, "Everything I Need" from their album Two Hearts, then toured extensively with "The Colin Hay Band" in 1988. In her 2008 NPR Music interview, she said that she had mimicked other singers while growing up and counts Aretha Franklin, Stevie Wonder and Sting as her early influences
1996–2000: Crisp and OnlySee
Edit
In the early 1990s, Furler started gigging in the Adelaide acid jazz scene and at the age of 17, joined the jazz-funk band, Crisp. Crisp included Furler on vocals, Jesse Flavell on guitar, Jeremy Glover on bass guitar, Sam Langley, Ben Timmis on keyboards, Steve Rooney on drums. The group released two albums: Word and the Deal (1996) and Delerium (1997). By 1997, Furler had left Crisp and as a trip hop artist, released her debut solo album OnlySee from an Adelaide garage – which sold 1,200 copies, 1,000 in Adelaide alone. It was produced by former Crisp bandmate Flavell, who also wrote most of the tracks, for Flavoured Records. During a November 1997 episode of Home and Away in her OnlySee days, Sia guest-starred on the show and sang a song called "How to Breathe" on a beach after Rebecca and Travis are declared husband and wife.
Following the disbandment of Crisp in 1997, Sia moved to London where she performed as a background vocalist for British band Jamiroquai.
Community content is available under
CC-BY-SA
unless otherwise noted.