Jurassic World: Dominion Dominates Fandom Wikis - The Loop
Play Sound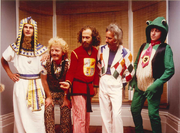 Soapbox Orchestra was an acoustic jug band that formed in Adelaide, South Australia in 1975. They later morphed into an electric jazz, rock, blues and vaudeville ensemble and disbanded in 1980.
Biography
[
]
The Soapbox project started when Rod Wade and Peter Thorpe joined with three others to form Soapbox Orchestra in 1975. Peter came from the highly successful Moonshine Jug and String Band, which of course later became The Angels. Soapbox Orchestra was quite successful in Adelaide playing over 600 shows and successfully touring NSW, ACT and WA as well as supporting various international and local artists including Chuck Berry, Maria Muldaur, Gerry and The Pacemakers, Melanie, Norman Gunston and Split Enz. They were managed by the Sphere Organisation whose stable at the time included The Angels, Cold Chisel, Stars and Tomlin. Chubby Carlini and later Chris Plimmer managed the band until 1979 at which time they handled themselves (so to speak).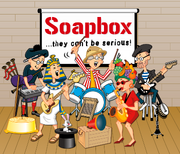 At any one time the five members played over 20 instruments. The groups roots were in jug band music using acoustic instruments, however, Soapbox Orchestra developed and incorporated a whole other electric side into the repertoire over time. The cornerstone of the act was a common musical and vaudeville concept of two front men – one straight (Rod) and the other funny (Peter). They recorded an album entitled Bent Nostalgia (distributed on cassette) of live and studio recordings which was engineered by Rob Norman, a 2012 member.
In 2012 Rod Wade and Peter Thorpe reformed under the name of Soapbox and performed until 2014.The later incarnation was considerably more musically orientated, but retained all the original ideas and some of the routines of the earlier version.
Members
[
]
Original line-up
Rod 'Harpo' Wade - vocals, washboard, drums, trombone, flugelhorn
Peter 'Rubberman William' Thorpe - vocals, tub bass, electric bass, mandolin, trumpet
Mike 'Magic Michelle' Leach - vocals, mandolin, harp, banjo
Gary 'Thumbles' Lynch - washboard, percussion
Richard Gilbin - five string banjo
Steve Cook - vocals, acoustic guitar
Adrian 'Pud' Townsend, Graeme 'The Grub' Mehaffey, John Lennard, Wally W. and Russell (sound and lights)
Later and during
Albert 'Vince Screen' Monas - vocals, violin, keyboards, tuba
Drew 'The Rev' McKechnie - vocals, electric guitar, harp, bass
Andre 'Le Frog' Ryjoch - vocals, saxophone, clarinet
Andrew 'Morris Minor' Scott - saxophone, clarinet, flute
Steve 'Slippery Sydney' James - lap steel guitar, ukulele
Ken Farmer - drums
Greg Banks - saxophone
Tony Harrison - keyboards
2012 line-up
Rod 'Harpo' Wade - vocals, washboard, drums, flugelhorn
Peter 'Heathcliff Hanger' Thorpe - vocals, tub bass, electric bass, mandolin
John 'Marcel More So' Bienvenue - vocals, guitar, banjo
Sophia 'Georgia Brown' McRae - vocals, saxophone, clarinet, flute
Rob 'Hamish McKeys' Norman - vocals, keyboards, bass, tin whistle and bagpipes
Simon 'The Great Gouldini' Gould - drums and sound