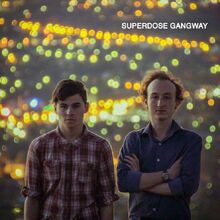 Superdose Gangway is an emo/pop-punk band from Adelaide, South Australia.
In 2015 songwriters Max Tulysewski and Liam Gare formed a group to further explore their shared stylistic interests with a view to release 26 tracks incrementally throughout 2016. This project became known as Twenty-Six Songs in Twenty Sixteen, with each track title beginning with the subsequent letter of the alphabet. The group chose their favourite tracks from this project and recreated them with higher production values for the mix-tape Monsoon Season. This album was released on January 3rd, 2017, the one-year anniversary of the official beginning of the band and project.
Superdose Gangway followed up their mix-tape with their first official EP Temple Bay in 2018. This was the first release to include Ben Finnis and Bonnie Aue, two adept jazz musicians whose skill would have a great impact on the band. Following this release founding member Liam Gare left the band due to overwhelming work life commitments and was replaced by Sam Morris. In early 2020 Demerit was released, the first of two new singles recorded, mixed and mastered at Depict Studios.
Current Members
Max Tulysewski - vocals, keyboards
Ben Finnis - guitar, vocals
Sam Morris - guitar
Bonnie Aue - bass
Craig Burns - drums
Past members
Liam Gare - vocals, guitar
Ned Heggart - bass
Community content is available under
CC-BY-SA
unless otherwise noted.