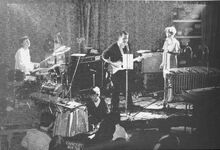 Systems Go! was an Adelaide based band active during the early 1980s.
Biography
Edit
The band released a 7" single (No More Xmas, Carol), along with a live to air recorded track (Red Light On) on 5MMM's compilation of Adelaide bands 1980s. They also released a compilation cassette (girl boy records).
Systems Go had two distinct line ups, plus an array of rotating members. They were perhaps most remembered for their song "Anticipation" (comp. Arnold Strals) - a 5MMM airplay staple, & a co-winner of 5MMMs 'best song' competition/award. Their use of vibraphone & found percussion objects, muted guitars - & the inclination for band members to swap instruments during a set - were points of distinction.
Vicki Wilkinson - sax
Elizabeth Kelly - vocals, vibraphone
Arnold Strals - vocals, guitar
Julie Grace - vocals, guitar, bass
Andrew Mills - drums
Tom Stehlick - drums
Craig Tidswell - vocals, sax
Diana - vocals, keyboards
Barbara Lloyd - vocals, guitar
Leonie Furler - bass
Huw Lewis - lead guitar, slide guitar
Liduina van der Sman - saxophone, flute
Adrienne Sach - piano
Keith Newman - drums
Vonni Rollan - congas
Nigel Sweeting - bass
Discography
Edit
Singles
Transatlantic Line / No more Xmas, Carol (private press)
Albums
Systems Go - (boy-girl records) compilation cassette
Community content is available under
CC-BY-SA
unless otherwise noted.