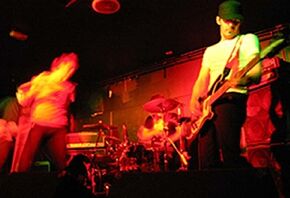 THIS CITY DYNAMITE!!! was a four piece rock, screamo and punk band formed in 2004 formed from members of Love Like Electrocution and Eyes Like Black Stars.
Biography
[
]
The band was formed in mid 2004 with members from two then recently defunct Adelaide bands; Love Like... Electrocution and Eyes Like Black Stars. This City Dynamite!!! played what can be described as screaming rock that fit somewhere between The Plot to Blow up the Eiffel Tower, Botch and The Blood Brothers.
This City Dynamite!!! played regular shows, often consisting of re-arranged band line-ups with like minded Adelaide bands My Sister the Cop and The Paddington Bear Affair. This City Dynamite!!! only released four songs on CD, a demo recorded at The Church (Young Street Church) at the hands of Justin Hermes (Diplomat, Damned Men). 
Their demise simply came about when friendship was chosen over the band in late 2005 although they reformed briefly for the sole purpose of recording an album containing 9 songs. This album remains unnamed, un-mastered and unreleased on a disc somewhere in Adelaide. There are often rumours that one day they will hold a reunion show and since disbanding the members have gone on to forge new paths in Robotosaurus, TIERSMAN, Bronze Chariot, MULE, Swords, Dear Pilgrim, Damned Men, Animal Traps, The Burning Sea, Space Bong, Grenadiers (first line-up) and Monuments.
Members
[
]
Discography
[
]
Demo - (2004)
Album (Unreleased) - (2006)
International Supports
[
]
Rambo (USA)
This Night Creeps (NZ)