Teddy vs. KC is a studio album by KidCrusher, released on Friday the 13th of May 2011.
Almost every song features European musician Teddy DKC of Bawdy Festival. He was intended to be apart of the entire album however due to conflict and disagreements during production, KidCrusher finished the album solo.
The album is heavily themed towards "Freddy vs. Jason".
It is indexed as the 8th chapter in the Chronicles of KidCrusher, recorded in Adelaide, South Australia.
Face Off
Patient #5 (feat. Teddy DKC)
Fuck In The Flesh Pit
Tales From The Hood (feat. Teddy DKC)
Outsider Artist
Faces Of Death Remix (feat. Teddy DKC)
Burn In Hell With Me!
My Nightmares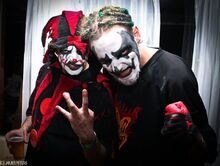 KidCrusher first worked with Teddy DKC on the 2007 album "Cannibal Clown" for the single "Faces of Death". After finding out Teddy's band broke up, KidCrusher invited Teddy to Australia to record an album together. This would be the second time KC has done a "team up" album.
The two first set out on an Australian tour entitled "The FreakShow Tour" before recording any new songs for their album, however they remixed some Bawdy Festival songs and performed Faces of Death live, mixing their songs together as one set. They performed in Adelaide, Sydney, Brisbane and performed for the True Tattoo Studio in Melbourne.
When they returned to the studio, only two songs were recorded together before Teddy decided to use the rest of his trip in Australia elsewhere, The album was planned to be longer but was cut short due indifferences between the collaboration. KidCrusher added a Faces of Death remix to add more of Teddy to the album, but finished off the remainder of the tracks solo. Teddy was intended to record once he got home, but KC asked him not to.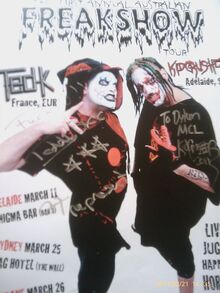 A internet beef between the two occurred when Teddy spoke against the Juggalo culture, then to follow KidCrusher said he used the album's gimmick to write his true feelings about Teddy on the track "Burn In Hell With Me" being the only personal diss song.
KC has noted that the beef was ironic and brief but they are no longer enemies and looks back on the tour and time they spent together as a fun and entertaining memory with cheese on top.
Trivia: The Instrumental for Heartbeat was originally planned to be apart of this album, but saved for MM3D.
Trivia; Fritz the cat was also in talks to produce this album.
Community content is available under
CC-BY-SA
unless otherwise noted.