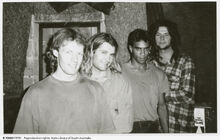 The Bearded Clams is a self proclaimed Surf Thrash Rock band from Adelaide that formed in 1987.
The Bearded Clams released their self titled CD in 1993, from this point onwards until the year 1997 the band line-up remained the same. In 1998 the group had a change of guitarist and the band adopted more of a metal influenced sound whilst retaining there surf thrash roots. The group then released "Sonice Wave" in 2002 and subsequently toured the eastern states of Australia. The Bearded Clams have supported many popular Australian alternative bands, particularly during the 90s and early 00s, including the likes of Grinspoon, Spiderbait, Regurgitator, The Living End, Powder Finger and Silver Chair. The band later took a 6 year hiatus while lead singer Darren Keyser sailed yachts in and around the Pacific Islands. Re-emerging in 2010 the band begun playing select shows and recorded filmed and released a 24 song Live DVD and 24 song 2 disc CD. The addition of a second guitarist in 2010 further strengthened their live sound and in Nov 2012 they returned to the studio and recorded 9 new songs to be released later in the year.
Darren Keyser - Vocals
Rohan Grant - Guitar
Wayne Beadman - Drums
Lefty - Bass
Scott Maxwell - Guitar
Brett Hammil - Bass
Wally Brett - Drums
Pat Ramm - Guitar, Vocals
Community content is available under
CC-BY-SA
unless otherwise noted.