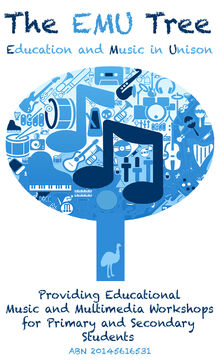 The EMU Tree, Education and Music in Unison was founded in 2012 by Barossa born Christian Teusner who returned to South Australia from living and working in Europe for 20 years. The EMU Tree provides creative music and multimedia education services and experiences.
Background
[
]
Christian was director/owner and head tutor for the highly successful Songschool Ltd, Createschool Ltd and Troy Horse Music Ltd which was based in Balbriggan, Co Dublin, Ireland. The team consisted of 19 highly trained and passionate tutors all committed to educating and developing the next generation of young musicians.This also included the Troy Horse Music Centre where over 150 students weekly would partake in instrumental lessons, band rehearsal facilities, recording studio and mentoring.
With over 15 years experience in education delivering in excess of 1700+ workshops to thousands of primary and secondary students in Ireland, Germany, Spain, Croatia and now Australia. Christian was also responsible for developing and facilitating many Youth Music Development Programmes / Mentoring Programmes for County Councils and Arts Services, Special Needs Workshops, Drug Awareness Workshops, Intergenerational Workshops, Creative English Workshops in Barcelona and is responsible for implementing and delivering the highly regarded Learn and Explore Music Camps at The National Concert Hall, Dublin.
Christian has presented workshops for Apple Inc. Regional Training Conferences in the UK, regularly presented at the Irish Post Primary Music Teachers Association annual conferences in Ireland, and attended many CPD conferences in the UK (Music Learning Live) and Sweden (ISME). As a musician with over 25 years experience he has worked and toured in Australia, Ireland, England, France, Germany, Spain, Croatia, Denmark, Switzerland, Netherlands, Estonia, Sweden, Finland, Thailand and the USA.
Currently Christian is working with Adelaide based ambient dance act Zeequil who performed at the 2016 Womadelaide Festival and recording for numerous artists back in Ireland.
Some of the legendary artists that Christian has worked with include, Producer Steve Albini (Nirvana), Producer and Musician Donal Lunny (Planxty, Moving Hearts, Sinead O'Connor), Paul Thomas (U2 Producer), Iain Archer (Ivor Novello Winner, Snow Patrol), Eamonn Dowd and the Racketeers, Glen Hansard (The Swell Season & The Frames), Meritas – Croatian pop duo just to name a few. Based on this wealth of experience from his time abroad Christian is now facilitating these educational and engaging workshops. The response to the workshops has been overwhelming and is continuing  to grow and develop statewide and nationally.
Description
[
]
The EMU Tree workshops are a way for students to develop;
self confidence and awareness
self expression
sense of achievement and ownership
interpersonal skills, communication skills
collaboration and skill sharing / teamwork
continued learning
songwriting skills
recording skills
performance skills
production skills
musicality
creative melody
exploring sounds
production knowledge
options for careers in music
master classes (instrument and industry)
opportunity for students to maximise their potential in all of the above