The Grinch is a studio album by KidCrusher, released on the 6th of December 2010.
Featuring the hit single "The Naughty List" The Grinch is a spinoff character for KidCrusher, loosely based on the Jim Carrey Grinch mixed with Marijuana and Murder themes, originally used for the Stash & KidCrusher - Stoned as a Mother Fucker spinoff album as a single.
It is indexed as the 7th chapter in the Chronicles of KidCrusher. Recorded in Adelaide, South Australia.
Track listing
Edit
The Naughty List
Silent Night Deadly Night
Oh Fuck My Christmas Tree
Scared Stoopid (Feat. Trips)
Outcast (Feat. SwizZz / Chico)
Slime In The Sewers
Party Crashers (Feat. Trips)
Bad Thing (What You Do)
The Dope Pinch Remix
Spark That Remix (Feat. Stash)
Feel's So Right (ICP Cover)
Haunted by Negativity
Purple Hayze (Feat. ill e. gal / Stash)
The Next Page To Turn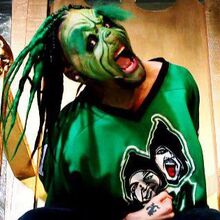 After the release of "Stash & KidCrusher – Stoned as a Mother Fucker", a side project in 2007. KC spoke out about doing an album based upon the song "The Grinch on a Dope Pinch" the album slowly went into production in 2009 but was low on time, funds, ideas and instrumentals to get it released in time for Christmas. So the album went into storage until later, In November 2010, KidCrusher was asked to feature on a Christmas mixtape hosted by Faygoluvers Heaven. KC wrote and recorded the song "Scared Stoopid" featuring Trips. He then had the motivation to work on more Christmas themed tracks and suddenly found a bundle of instrumentals to work with; and with only a month until Christmas, KC had to work like an elf to get his sack full of tracks ready to throw down every body's chimney. The album went from having 8 tracks to 14 tracks and was released FREE on the Internet for Christmas 2010, the album received so many downloads that it crashed KidCrusher.com 's bandwidth on his server. This is the quickest album ever assembled by KC. A Music Video for the intro track "The Naughty List" was later filmed in January 2011, released in March; by Strongman Pictures who produced Meet The Monstors. It goes viral every Christmas and has built up over 300,000 views on YouTube, but is noted to be "The Worst KidCrusher Song Ever" quoted by fans in the comments of YouTube. KC went along to say The Grinch would return for one song every year.
Future sequels
Edit
By popular demand a Grinch sequel album has always been bought up but never confirmed, however more singles are possible. He released the single "Random Acts Of Hate" for Christmas 2011, then composed a track for 2012 however it was released in 2013 "The Christmas Nightmare", the character did not return again until 2018 for a single "Tales from the Grinch". When asked why it stopped, KC noted, he thought it was overkill. In 2020, KidCrusher announced a new Grinch single had already been written but was unsure of how it would be released.
Community content is available under
CC-BY-SA
unless otherwise noted.