The Nothing is a studio album by Rectal Birth, released March 17, 2012.
It is a one man experimental cybergrind project produced by KidCrusher.
Track listing
Edit
The Storm
Teeth Grinder
Penetration
The Nothing
Overdrive
Crucifix (3:29)
The Eternal Stench
Ass To Mouth
Full Of Shit (Blocked Toilet)
Auto Erotic Asphyxiation
Spare Parts (Metal Murder Remix)
999bpm (Live Drum Solo)
1.21 Gigawatts
Brain Spasms
Rectal Birth was first created in 2003 as a high school metal cover band, a demo entitled First Fuck was recorded but never released. They performed live once before disbanding. In 2012, KidCrusher (former vocalist and founder) wanted to pay tribute to his first band by experimenting with a solo album, focused on Industrial Metal. After the breakup of his other band KcaveMen, he wanted to also take a break from his rap career and focus on something new.
During Interviews he noted he drank an entire bottle of Jim Beam per song production to make the experience that more out of control and to make the album inhumanly possible to play. He also noted the album is based on the "Neverending Story" movie storm, which reflected a negative pit of depression. When asked about the meaning behind the band name he said; he feels like shit, he gets treated like shit, therefor he must be shit, born the wrong way and living upside down.
Rectal Birth performed live as a DJ performance on the release date.
Teeth Grinder is a remix of the only original Rectal Birth song from Fist Fuck.
A demo version for this album was also composed in 2006, however it wasn't released.
In 2020, Rectal Birth announced a new album is in production.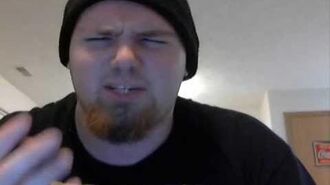 Community content is available under
CC-BY-SA
unless otherwise noted.