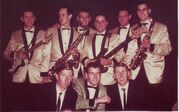 The Planets was a dance band renowned for their Thursday and Saturday night gigs at the Norwood Ballroom, promoted by Ivan Dayman during the 1960's.
They appeared regularly on the NWS Channel 9 TV program 'Woodies Teen Time', performing alongside acts such as Johnny O'Keefe and The Hi Marks.
The group featured prominent Adelaide musicians, such as Bob Jeffery of The Penny Rockets, Jazz Swing King Neville Dunn (Swinging Graduates, The Penny Rockets, Ray O'Connor Quintet) and Vocalists Kevin Bradfield, Terry Gordon and Pat Aulton.
Vocalist Pat Aulton, went on to join The Clefs, before later becoming one of Australia's foremost record producers. Establishing the Sunshine records label, then later with Festival Records, he produced albums for frontline Australian and International acts such as Sherbet, Neil Sedaka, Normie Rowe and Jeff St John.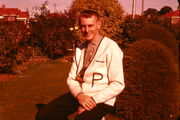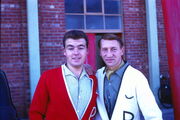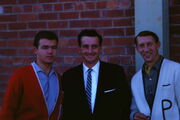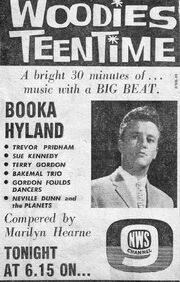 Neville Dunn - Piano
David Funke - Piano
Glen Guscott - Sax
Bob Jeffery - Tenor Sax
Anatole Pavlovs - Guitar
Terry Seabrook - Guitar
Dick Korff - Bass
Des Lawn - Drums
Neil Hayter - Drums
Edna Sanders - Vocals
Terry Gordon - Vocals
The Trev twins - Vocals
Pat Aulton - Vocals
Kevin Bradfield - Compare, Vocals
Community content is available under
CC-BY-SA
unless otherwise noted.