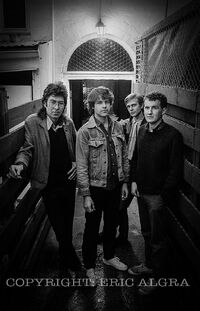 The Spikes was an Adelaide band together between 1983-1986, with a revival between 1990 and 1991. They were once known as the Falling Spikes.
In August 1986 David Sly reviewed the album Colour in a black forest in The Advertiser concluding the review with 'It's a potent, throbbing album full of guitar, a big beat and irresistible tunes from one of Adelaide's finest rock 'n' roll outfits'.
Mick Brown (1984-1985)
Ian List (1985-1986)
Jim Selene (1984-1985)
Greg Swanborough
Doug Thomas
James Tizard (1985-1986)
Chris Willard (1986)
Sheree Goldsworthy (1991)
Paul Sharman (1991)
Singles
She's melting - (1983)
Bloody mess - (1985)
River of love - (1986)
Albums
Colour in a black forest - (1986)
Community content is available under
CC-BY-SA
unless otherwise noted.