Jurassic World: Dominion Dominates Fandom Wikis - The Loop
Play Sound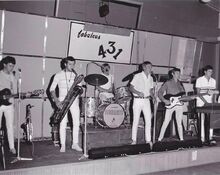 The Vibrants was a mid 1960s Australian pop rock group that emerged from Bobby James and the Vibrants in Adelaide. They charted with "Something About You Baby" and "My Prayer" as The Vibrants, after their lead singer left the band to form the Bobby James Syndicate. After little further success, they broke up in October 1968, when the group split into two bands, called The Graduate and The New Vibrants.
History
[
]
The band started out as the backing group for singer Bobby James. In this guise they recorded one single for EMI's Columbia imprint, "Jezebel" / "Tossin' and Turnin'" in 1965. After a trip to Melbourne to play at Pinocchio's nightclub in early 1966, James left to form the Bobby James Syndicate. Ian McFarlane's article on the group also listed another James/Vibrants track "I've Learned" and a May 1965 single, "Furry Legs" / "Maybe Tomorrow" shared with Roger Dee and released on the W&G label.
Skewes got together a new lineup for the group in April 1966. They frequently backed local and visiting solo artists, such as Bev Harrell and Johnny O'Keefe, before moving to Melbourne in July 1966.
Don La Roche became their new manager, and had them signed with EMI's Columbia label, at which point Mick Hamilton (ex-The Moods) replaced Idris Jones (The Jones Boys) who had temporary replaced Mike Wade on guitar. Their first single, "I've Got To Go" (September 1966) did not chart, but the follow-up, a cover of The Four Tops' "Something About You, Baby" (January 1967) was a Top 10 hit in Australia. It has since become the track for which they are best known, and has been anthologised on several compilation albums of Australian 1960s pop music. It was followed by "The Letter Song" which did not chart and, in September, by "My Prayer" / "Don't Let Your Left Hand Know", which was a major double-sided hit in Melbourne (#5 and "My Prayer" also charted in other states). They appeared on several overseas show, including supporting Sérgio Mendes in Melbourne in 1967.
John Perry was replaced as lead singer by Marc Leon (ex-Impulse), and Bill Pfeiffer left not long after, with the late Barry Rogers taking over on bass. Their next single, a cover of the Bee Gees' "Terrible Way to Treat Your Baby" was released in late June 1968. It sold only moderately in Adelaide and Melbourne and reached #51 nationally.
In October 1968, a major split took place, with Leon, Hossen and Rogers leaving with their manager, La Roche, to form a new group called The Graduate. Skews, Hamilton and Kent formed The New Vibrants with Penny Parsons (vocals) and Bob Flynn (bass). They released two singles on the Air label including "I Can't Let Go Of Your Love", their biggest hit, which climbed to #55 in 1970, and "Give Me Just A Little More Time". In 1971 Ken Leroy (ex-John Rupert Group) replaced Flynn on bass, and Trevor Courtney (ex-Chants R&B, Cam-Pact) replaced the long serving Kent on drums. This final version of the band broke up in 1973.
Members
[
]
Bobby James & The Vibrants (1965-66) 
Jeff Gurr - bass
Brenton Hay - saxophone 
Bobby James - vocals
Rick Kent - drums 
Terry Osmond - guitar
Terry Radford - guitar
Geoff Skewes - keyboards
The Vibrants (Mk I) (1966-68) 
Mick Hamilton - guitar 
John Hossen - saxophone 
Rick Kent - drums 
Mark Leon - vocals (Feb-Oct '68) 
John (Rupert) Perry - vocals (Apr '66 - Feb '68) 
Bill Pfeiffer - bass 
Barry Rogers - bass (Feb-Oct '68) 
Geoff Skewes - keyboards
Mike Wade - guitar (1966) 
The Vibrants (Mk II) (1968-71) 
Bob Flynn - bass 
Mick Hamilton - guitar 
Rick Kent - drums 
Ken Leroy - bass (1971) 
Penny Parsons - vocals 
Geoff Skewes - keyboards 
Trevor Courtney - drums (1971)